ELLEN ECKER OGDEN is the author of five books on food and gardens, including The Complete Kitchen Garden ( 2011 Stewart, Tabori and Chang), From the Cook's Garden ( Harper Collins 2003), and The Vermont Cheese Book (2007 Countryman Press ) and co-author of The Vermont Country Store Cookbook (2015 Grand Central Publishing ). She lectures on kitchen garden designs for cooks who love to garden.
Look Inside The Complete Kitchen Garden Book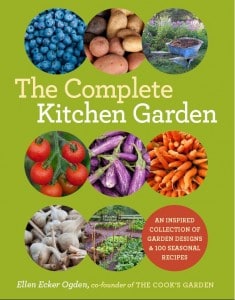 Here's what the reviewers are saying:
With the resurgence of "growing your own," this book couldn't be more timely. From her years of experience and learning from other gardeners, Ellen Ogden shares a unique perspective on the kitchen garden. Recognizing that each garden and gardener is unique, Ogden gives us an assortment of garden designs that are suited to varying interests.
What I really love about this book is that it gives such a variety of designs that my kitchen garden can have a new look every year for the next fourteen years. That gets me excited about growing beans and peas again.
– Kylee Baumle for Horticulture Magazine:
For straightforward and lovely kitchen garden designs, along with helpful tips for companion plantings, consult Ellen Ecker Ogden's COMPLETE KITCHEN GARDEN
–New York Times Book Review
If your idea of a vegetable is a beautiful, whimsical space that not only provides food but is an oasis in your backyard, you'll find inspiration in gardening guru Ellen Ecker Ogden's latest book The Complete Kitchen Garden (Stewart, Tabori & Chang, March 2011). She includes 14 themed kitchen gardens, from a salad lover's garden to a chef's garden, along with garden plans, plant profiles and recipes to use up the harvest.
– Carolyn Malcoun, for Eating Well Magazine
More Clips:
Country Garden Magazine: Spring Greens Artistry
Kitchen garden expert Ellen Ogden celebrates the new growing season with salad greens that are a feast for the eye as well as the palate. Read on >>>
Eating Well Magazine: Homegrown Salads
Now's the time to liven up your salad bowl with beautiful garden greens – from spicy mustard to mild mache – that thrive in the cool weather of spring. Read on >>>
Vermont Magazine:Grow A Kitchen Garden
A kitchen garden may be a fancy name for a vegetable garden, yet the concept is as old as the first hunter-gatherers who decided to sit back and watch seeds grow. Read on >>>