ELLEN ECKER OGDEN is the co-founder of The Cook's Garden seed catalog, and the author of five books on food and gardens. She lectures on kitchen garden designs, and offers kitchen garden design consultation for private gardens and botanic gardens. Below are a list of her books, available in bookstores or through this website.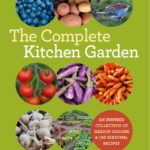 THE COMPLETE KITCHEN GARDEN is an inspired collection of themed garden designs and recipes for cooks who love to garden. Published in 2011 by Stewart, Tabori and Chang, it is in its third printing. Full color illustrations, black and white designs for garden layout, and recipes in each chapter, this book combines art, food and gardens – my three favorite activities. Full color photos and illustrations. Deluxe Paperback. $25.
To order and autographed copy, click here.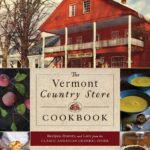 THE VERMONT COUNTRY STORE COOKBOOK published in 2014, features 125 original recipes and 60 color photographs that highlight the Vermont way of life. Reflections on the family who started the Vermont Country Store, this book covers everything from how to make yogurt and home made bread and pickles to fancier fare such as braised rabbit stew, or stuffed quail. A treasure trove of classic New England recipes, sure to please every appetite. Hardcover. $30.
To order and autographed copy, click here.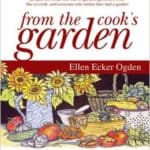 FROM THE COOKS GARDEN was published in 2003, by Harper Collins Publishers. Illustrated by Mary Azarian, featuring 125 garden- to – table recipes. It is currently out print, yet a limited supply of original copies in excellent condition, as well as a few used copies in good condition are available. The inspiration for this book came from recipes that were created for The Cook's Garden seed catalog, to encourage gardeners to try growing something new in their gardens. Full color illustrations. Hardcover. New: $40. Used: $20.
To order and autographed copy, click here.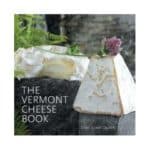 THE VERMONT CHEESE BOOK published in 2007 by Countryman Press covers the 42 cheesemakers in Vermont who produce delicious cheese. The chapters are set up to reflect the geography of Vermont, and by county to make it easy for the cheese lover to taste the landscape. Each cheesemaker has a unique perspective on the art and science of cheesemaking, and this book highlights the special features of each farm and what to expect when tasting their cheese. Color and black and white photos. Paperback. $20.
To order and autographed copy, click here.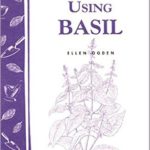 GROWING AND USING BASIL is a small Storey publication that covers everything you might like to know about Basil. Select from over 80 types of basil, from culinary to aromatic, this book tells you how to grow, how to harvest and tips for how to make basil vinegar, tussy-mussies, and pesto and more. It's been in print for two decades, yet still current. Paperback. $3.95.
_____________________________
Here's what the reviewers are saying about The Complete Kitchen Garden:
With the resurgence of "growing your own," this book couldn't be more timely. From her years of experience and learning from other gardeners, Ellen Ogden shares a unique perspective on the kitchen garden. Recognizing that each garden and gardener is unique, Ogden gives us an assortment of garden designs that are suited to varying interests.
What I really love about this book is that it gives such a variety of designs that my kitchen garden can have a new look every year for the next fourteen years. That gets me excited about growing beans and peas again.
– Kylee Baumle for Horticulture Magazine:
For straightforward and lovely kitchen garden designs, along with helpful tips for companion plantings, consult Ellen Ecker Ogden's COMPLETE KITCHEN GARDEN
–New York Times Book Review
If your idea of a vegetable is a beautiful, whimsical space that not only provides food but is an oasis in your backyard, you'll find inspiration in gardening guru Ellen Ecker Ogden's latest book The Complete Kitchen Garden (Stewart, Tabori & Chang, March 2011). She includes 14 themed kitchen gardens, from a salad lover's garden to a chef's garden, along with garden plans, plant profiles and recipes to use up the harvest.
– Carolyn Malcoun, for Eating Well Magazine