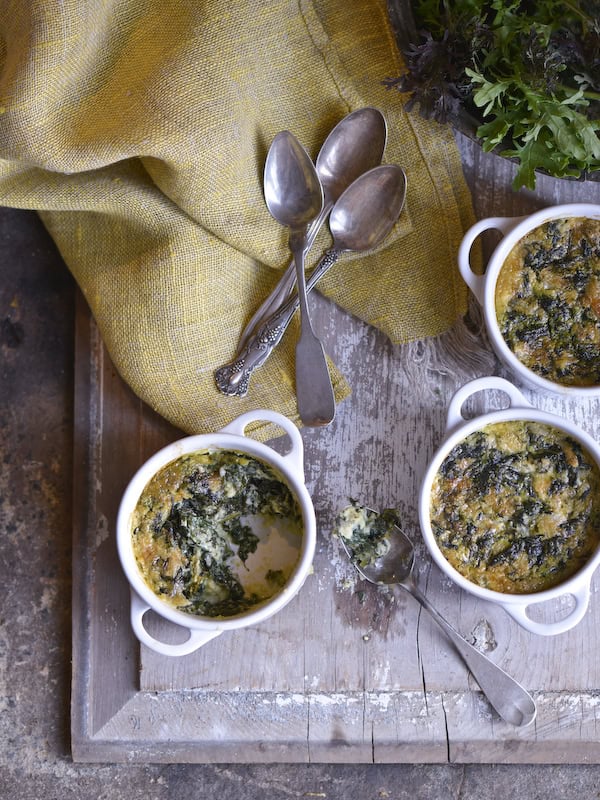 Vermont Cheddar and Spinach Custard   Makes four 8 oz. ramekins / Serves 4
Cheddar and spinach are old friends, and are beautifully paired in this delicate custard. The eggy custard is nicely seasoned with a small grating of nutmeg, and easily adapted to include sautéed shallots or softened mushroom.  This custard is pure comfort food for all ages, and an elegant way to eat your greens.
2 tablespoons soften butter
3 cups fresh spinach leaves, well rinsed
1 cup heavy cream
4 large egg yolks
1 cup shredded sharp Cheddar cheese
¼ teaspoon sea salt
1/8 teaspoon freshly ground pepper
1/8 teaspoon freshly grated nutmeg
Preheat oven to 325°F. Generously butter four 8-ounce ramekins. Bring a large pot of lightly salted water to a boil. Add the spinach and cook until tender, about 3 minutes. Drain and rinse under cold water. A handful at a time, squeeze out the excess moisture from the spinach. Chop coarsely. You should have about 1 cup chopped spinach.
In a medium bowl, whisk together the cream and yolks until well combined. Stir in the cooked spinach, cheese, salt, pepper, and nutmeg. Ladle or pour equal quantities of the custard into the ramekins, and place them in a roasting pan.
Custard cooks best when cooked gently surrounded by hot water, called, in France, a bain marie. Create this by adding enough hot water to the pan to come halfway up the sides of the ramekins. Bake for 35 minutes, or until the custard is set when given a slight shake, or when a sharp knife inserted comes out clean. Remove ramekins from the pan and let stand for 5 minutes. Run a knife around the inside of each ramekin and invert on separate plates to unmold, or serve directly from hot oven to the table in the ramekins.