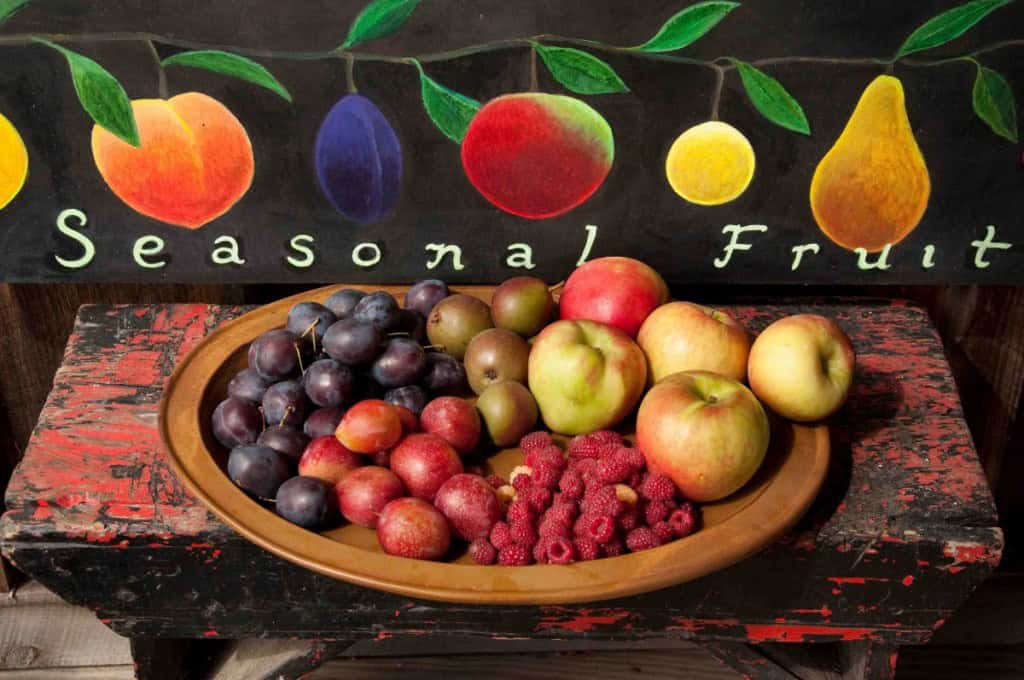 Winter fruit is fresh fruit captured in frozen bags, that often drift to the bottom of the freezer in forgotten disarray. We all know that fruit is at its best during the height of the season, yet somehow it seems logical to freeze extra pints of raspberries, strawberries and blueberries. But frozen berries lose their shape, so I plan to use them in desserts to make the most of the watery texture.
This recipe was inspired when I found a quart bag of tiny elderberries, from bushes I planted four years ago. It took a few seasons for the plants to take off, yet suddenly they were laden with clusters of purple berries.  The slightly crunchy tart bite is nice in syrup with pancakes, or spooned over ice cream or custard. You'll be amazed at how easy it is to make this delicious this Panne Cotta, which is pure comfort food, and a really nice way to use up the winter fruit, whether it is frozen elderberries or raspberries, it will help to get through the long nights of  winter with a little taste of summer.
Panne Cotta
Makes 6 individual custard cups
Panna Cotta is just a fancy name for cooked cream, and is like eating ice cream. Serve as a dessert, inverted onto a plate and topped with a huge pile of very juicy berries and a whisper of kirsch, or for a light breakfast. Because there's no eggs or custard making involved, it possible to be creative with this basic recipe. If it is winter, defrost frozen berries to use instead of fresh. If it is summer,  infuse the cream with an aromatic herb such as lemon verbena or fresh mint when heating to give it added depth of flavor. Make this recipe one or two hours before serving to properly chill.
2 ½ cups organic heavy cream
1/2-cup sugar
1 vanilla bean, split lengthwise ( or 1 teaspoon vanilla extract)
1 packet powdered gelatin (about 2 teaspoons)
3 tablespoons cold water
1 cup fresh elderberries ( or raspberries, blueberries or strawberries), lightly crushed
1/2 lemon, juiced and 1 tablespoon zest
In a medium saucepan, slowly heat the cream and sugar, stirring with a whisk to dissolve the sugar, about 2 minutes. Turn off the heat. Scrape the seeds from the vanilla bean into the cream as well as the bean pod. Cover, and let infuse for 30 minutes. Remove the bean then gently rewarm the mixture, careful not to boil, before continuing.
In a medium-sized bowl scatter the gelatin over the cold water and let stand 5 minutes. Pour the very warm Panna Cotta mixture over the gelatin and with a wire whisk, whip until the gelatin is completely dissolved.
Prepare 6 individual cup ramekins, and pour the Panna Cotta mixture into the cups, Transfer to the refrigerator and chill a minimum of one hour for soft, creamy finish and longer for firmer custard.
Fetch the berries from the freezer while the Panna Cotta is chilling. Defrost them naturally at room temperature in a bowl. When ready to serve, run a sharp knife around the edge of each ramekin, and unmold each onto a serving plate.  Serve with a sprinkling of berries, tossed with lemon and zest and garnish with edible flower petals.