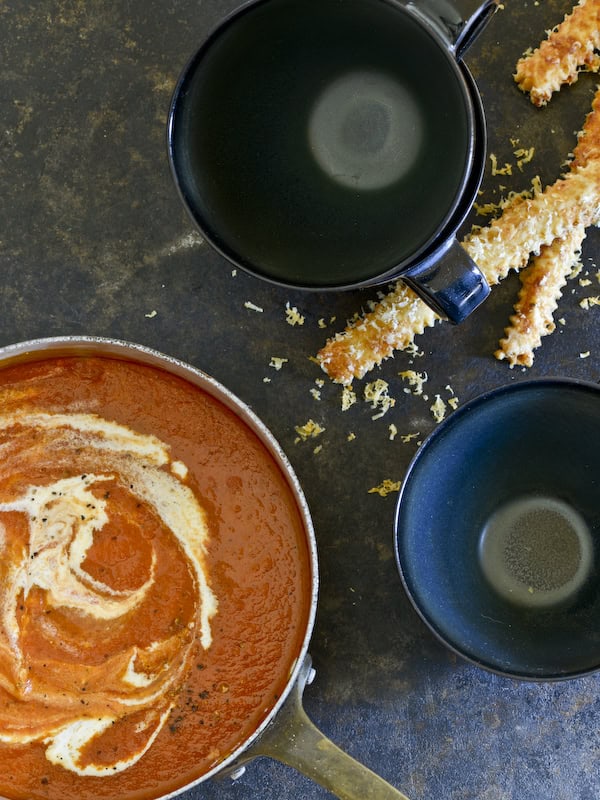 Tomato Soup with Cheese Sticks | Makes 8 cups
The combination of tomatoes and Vermont Cheddar is a time-honored favorite  in winter, with the cheese adding depth and smoothness to the rich tomatoes. Choose traditional San Marzano heirloom canned tomatoes, or Fire Roasted Muir Glen Organic, which gives it a smoky flavor. This satisfying soup is quick to make and ready to ladle into bowls, with less than half hour of simmering on the stove. Serve with crunchy cheese straws, recipe below.
One 28-ounce can San Marzano (or Muir Glen fire-roasted) tomatoes
2 tablespoons extra virgin olive oil
1 medium onion, coarsely chopped
2 garlic cloves, minced
1 tablespoon curry powder
4 cups chicken broth
1 cup half-and-half
1 teaspoon fresh thyme or ½ teaspoon dried
2 cups (8 ounces) Vermont Cheddar, coarsely grated
½ teaspoon salt
¼ teaspoon freshly ground pepper
In a 2-quart stockpot, heat oil over medium heat and add chopped onions, stirring and simmering until soft and translucent, about 5 minutes. Add garlic and curry powder and stir for another minute until fragrant.
Add the tomatoes into the onion mixture. Pour in the broth and half-and-half, and add the crushed dried thyme. With a wooden spoon, give it a stir and then bring to a gentle boil. Immediately adjust the heat down to allow the soup to simmer for 15 minutes, stirring occasionally. Remove from the heat.
Add the cheese, one handful at a time, stirring with a wooden spoon until it is melted. With an immersion blender or in a blender, whir until the ingredients have combined, yet are still somewhat chunky. Season with salt and pepper to taste. Serve warm.
—
Crunchy Cheese Straws
Makes 6 dozen
 
Thin, crisp pastry sticks with the tang of cayenne and sharp Cheddar, cheese straws are the perfect appetizer for cocktails and a fine crunchy accompaniment to soup. The simple dough is rolled out and sliced into "straws." For a decorative touch, use a fluted ravioli cutter to achieve a crimped edge. A tin of cheese straws makes an excellent hostess gift.
1 2/3 cups unbleached all-purpose flour
½ teaspoon sea salt
1 teaspoon dry mustard
¼ teaspoon red pepper flakes
4 ounces (1 stick) unsalted butter, room temperature
8 ounces sharp Vermont Cheddar cheese, grated (2 cups)
1 to 3 tablespoons ice water
1 egg yolk
2 tablespoons whole milk
2 tablespoons grated Parmesan cheese
Preheat the oven to 425°F.
Combine the dry ingredients (flour, salt, dry mustard, and hot pepper) in a mixing bowl and blend with a whisk for a minute to lightly sift.
Cut the butter into ¼" slices and drop them into a large bowl of an electric mixer fitted with the paddle attachment, along with the grated cheese. Thoroughly blend on medium speed.
With the mixer running on medium, slowly add the dry ingredients to the butter and cheese mixture, and mix about 1 to 2 minutes. Keeping the mixer running, add the ice water, one tablespoon at a time, allowing 30 seconds between each spoonful of water. Stop when the dough comes together into a ball.
Turn the dough out onto a lightly floured surface. Knead five or six times just to bring it together into a cohesive ball. With a rolling pin, press the dough into a rectangle, ¼-inch thick. Cut into strips ¼-inch wide and 10 to 12 inches in length with a ravioli cutter to give it serrated edges that will look like French fries. (If you don't have a ravioli cutter, use a sharp knife.)
Transfer the strips to two ungreased cookie sheets with a spatula, placing them ¼-inch apart to allow space for expansion. In a small bowl, whisk together the egg yolk and the milk, and with a pasty brush, coat the straws before baking and sprinkle lightly with grated Parmesan cheese. (This is an optional step, yet will yield a better looking cheese stick.)
Bake for 12 to 15 minutes, and pull from the oven when straws are just starting to look golden brown and crisp. Transfer to a wire rack to cool slightly. Serve while still hot or at room temperature, and store any extras in a zip-lock bag or airtight container in the pantry.