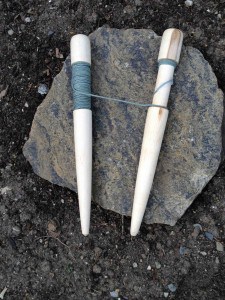 I'll admit, that when it comes to planting the garden, I like straight lines. For years, I simply used two sticks and a ball of twine to mark the row, but when I discovered that I could use a fancy planting line that also serves as a dibber, I upgraded. There are lots of ways that we can improve our gardening efforts, and in my garden I keep a pretty strict rule: it has to be attractive. So when I met Hugh and Hope Davis at a garden event a few years back, I became a fan.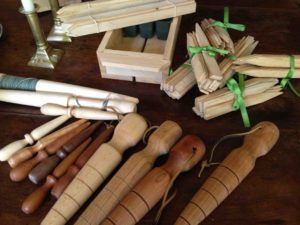 Last week, I drove to their workshop in Leverett, Mass to see their charming gardens, and visit the workshop where Hugh carves and constructs hand-hewn trellises for fences and climbing vines. The driveway entrance is marked by a carved stone, that reads The Farmstead, which leads through an entrance bordered by espaliered fruit trees, into a series of low stone walls and paths, and an historic 1700's salt box house. The Farmstead began when Hope got hooked on the author Ann Leighton, author of the book titled Early American Gardens and thought that she'd like to design her gardens to fit the era of their house.
This led to the design of a cedar raised bed made with a mortise and tenon design, which quickly became so popular they gave the business to their son, Tony, who makes them at his own farmstead in Chatham, Cape Cod. These are the raised beds that I often recommend in my garden lectures, perfect for urban gardeners, school gardens and I recently put up a few at my son's apartment in Burlington, Vermont ( and received lots of praise from his facebook friends).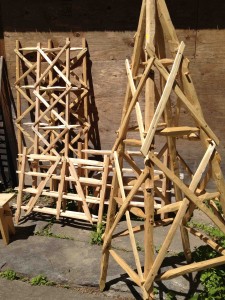 Even though the day was sunny and warm, we enjoyed a cup of tea in front of the massive fireplace, where Hugh hand carves and whittles wood for his garden pieces. It was a Tasha Tudor moment, with the fire warming the room,  surrounded by naturally aged wide pine floor boards, wall to ceiling built in cupboards holding old pewter, flowering plants on the windowsills, and a collection of trellis's, planting boxes, fences and benches just out side the kitchen door. They were building inventory for a series of upcoming garden show at the Berkshire Botanic Gardens, Tower Hill and the North Hill Garden Symposium.
My favorite piece that Hugh makes is a garden tudor style trellis, which I have in the center of one of my beds. This morning, I stuck in curly willow branches to help the sweet peas climb up the side, and stretched the planting line across the bed, to sow seeds for salad greens. All of the garden tools that Hugh and Hope skillfully craft are based on early American designs. They are both practical and artful, and to me, it's the best of both worlds and the only way to garden.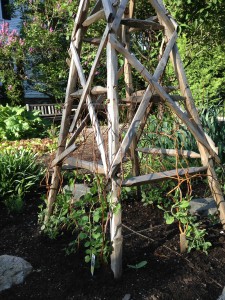 If interested in purchasing: Contact Ellen.
Wooden Dibbers,Wooden Planting Line, Wood Seed Box or Wooden Trellis for peonies or peas.