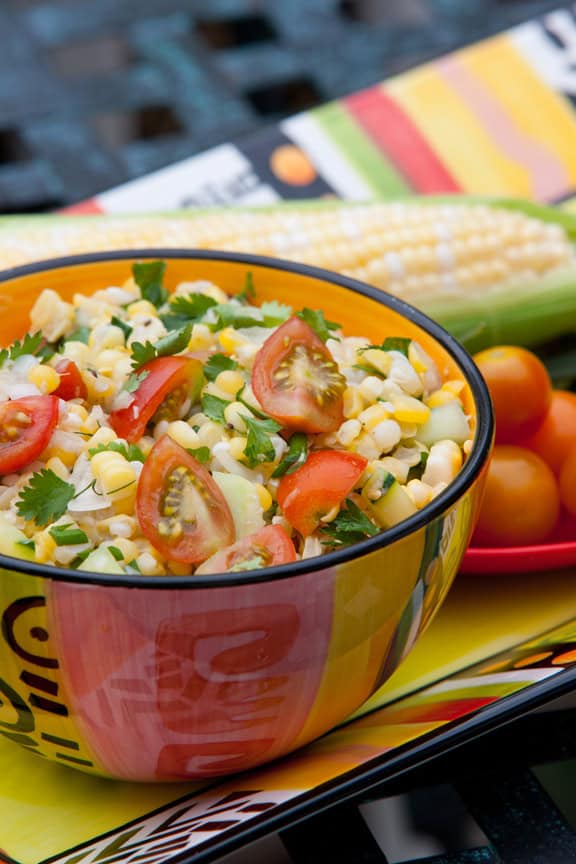 Sweet corn and cucumber salad is a favorite recipe from my book, The Complete Kitchen Garden, with a variation coming out in my upcoming Vermont Country Store Cookbook. This sweet and chunky summer salad  has the consistency of salsa, but without the heat. Friends came to dinner last night, and I made grilled chicken marinated in lemon garlic with fresh rosemary, serving this salad on the side in a cupped leaf of butterhead lettuce. It was the perfect summer meal to serve out on the porch.
The secret ingredient is a hint of smoked maple syrup, available from Sugar Bob's Smoked Maple, which gives the salad a bacon flavor, without the meat.  In combination with a good amount of fresh cilantro, this salad is one of the best ways to celebrate the foods of summer.
Sweet Corn and Cucumber Salad
Makes 4–6 servings.
6 large ears fresh corn on the cob
2 large ripe tomatoes, seeded and chopped into 1/2-inch cubes
1 medium cucumber, chopped into 1/2-inch cubes
1 small sweet red onion, finely chopped
1/3 cup finely chopped fresh Italian flat-leaf parsley
1/2 cup finely chopped fresh cilantro
1 lemon, juiced ( about 2 tablespoons)
3 tablespoons Maple Balsamic Vinaigrette (see below)
1 head butterhead lettuce
1. Shuck the corn and place in a kettle with water. Bring to a boil and cook for 5 minutes until tender. Drain and cool.
2. Stand on its end to cut off the kernels. (yield: about 3 cups).
3. Combine the corn, tomatoes, cucumber, onion, parsley, and cilantro in a large salad bowl. Add the lemon juice and toss.
4. Prepare the Maple Balsamic Vinaigrette below, and spoon on 3 tablespoons or more to taste. Season with salt and pepper.
5. Cover and refrigerate until chilled, at least 2 hours or overnight. Serve, chilled, atop the lettuce.
Maple Balsamic Vinaigrette
Makes 1/2 cup
1 teaspoon Dijon mustard
1 large clove garlic, finely chopped
1 tablespoon pure maple syrup
1 teaspoon smoked maple syrup
2 tablespoons lemon juice
3 tablespoons balsamic vinegar
½ cup extra virgin olive oil
Coarse sea salt and fresh ground pepper, to taste
In a small bowl combine the mustard, garlic, maple syrup, lemon juice, and vinegar. Slowly whisk in the olive oil to emulsify. Season to taste with salt and pepper.