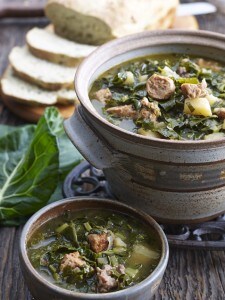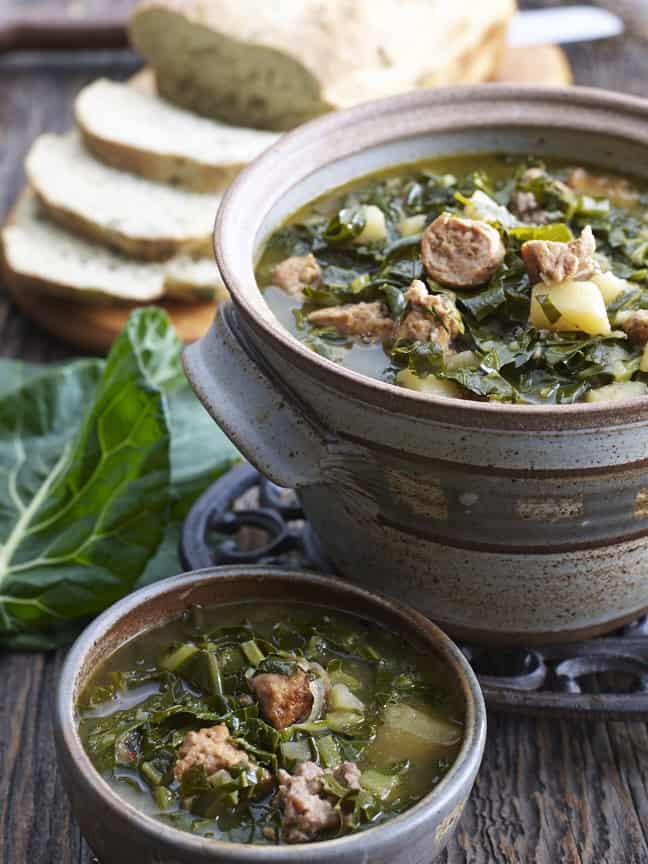 SOUP SEASON in Vermont starts in the spring,  with sautéed asparagus and wild ramps blended with a bit of fresh cream garnished with a chiffonade of sorrel leaves. Summer soups can double as a cooling drink, whirring together tomatoes, cucumber and fresh herbs combined in a blender with ice. But my favorite time of year is winter, when soup somehow tastes the best.
Roasted winter squash blended with slowly simmered leeks with chunks of softened celeriac all blended into a thick appetizing purée is the most primitive form of comfort. Soup is often thought of as simple food, yet actually it is quite complex.
When I first started making soup, I had this image that it was basically a melting pot of vegetables that lacked definition. It took me a few years of following recipes and then making up my own before I realized that it wasn't always just a matter of combining whatever was available from the 'fridge or the garden. And it took more than just a long simmer on the stove top to create a soup that contained a delicate balance of fresh effervescent flavor. It took precision and knowledge of the basic steps and the knowledge of how to concoct a variety of different soups.
I learned how to construct three basic kinds of soups; broth, chowder and puree. Stock is a foundation for most soup and can be made with a vegetable or meat base. To make a light chicken stock, a chicken carcass or whole bird is simmered with vegetables and herbs for several hours. But like a good cup of tea, the most flavorful chicken stock begins with cold water instead of hot and should be brought to a slow simmer with the foam and residue skimmed frequently off the top with a slotted spoon.
Five root vegetables are traditionally used to make stock for additional flavor; onions, carrots, turnips, garlic and leeks. A heavy hand with herbs can overpower a good broth, so instead, make a bouquet garni – a bundle of herbs such as a bay leaf, thyme, parsley, cloves, peppercorns and tarragon wrapped in a loosely woven cloth bag or a tea strainer. Remove and discard when the stock is completed.
Soup is wholesome and practical. It's one of the few foods that you can still make, even if you are missing ingredients from a recipe and it will still taste pretty darn good. Soup is a good place for beginner cook to start and for more practiced cooks to continue.  By following the progression of produce throughout the season, soups can be enjoyed throughout the year. Below is one of my favorites, and can be made with kale or collards. Serve this with fragrant herbed cheese bread and a pat of Vermont made butter for real down home flavor.
Collards and Hot Sausage Soup
Serves 6-8
Collards grow in most Vermont gardens long into fall, interchangeable in recipes with kale. The flat open leaves shape are easy to prepare: stack them, and roll up in a tube, then slice into thin strips, otherwise known as chiffonade. Corn adds a fresh off the cob hint of sweetness if you make this towards the end of summer, otherwise use frozen, the next best thing in winter.
¼ cup olive oil
3 hot Italian sausages – cut into ½ inch pieces
3 sweet Italian sausages – cut into ½ inch pieces
1 onion, finely chopped ( about 1 cup)
4 garlic cloves, peeled and minced
Salt and fresh ground pepper
¼ teaspoon red pepper flakes
2 pounds (about 6-8) Yukon Gold potatoes, peeled, cut into ¾ inch pieces
4 cups chicken broth
4 cups water
1-pound collard greens, stacked and sliced into fine strips, yielding about 6 cups.
1-cup corn kernels
Heat 1-tablespoon oil in a 8 quart stock pot over medium high heat until shimmering. Add sausage and cook, stirring occasionally, until lightly browned, 4 to 5 minutes. Transfer to a bowl and set aside.
Reduce heat to medium and add onion, garlic, and the pepper flakes. Season with generous sprinkling of salt and pepper, to taste. Cook stirring frequently, until onion is translucent, 3 – 5 minutes. Add potatoes, broth and water, and increase to medium and bring to a boil. Reduce heat, and simmer, uncovered for 10 minutes, until potatoes are just tender.
With a measuring cup or soup ladle, transfer 1-cup solids and 1 cup broth to a blender. Add remaining 3 tablespoons oil to the soup in the blender and process until very smooth and well blended, about 1 minute. Set aside.
Add collard greens to soup pot and simmer for 5 minutes. Add the sweet sausage and the corn, continue to simmer until greens are tender, 8- 10 minutes longer. Stir the pureed soup mixture back into the pot, bring back to a simmer and serve hot.