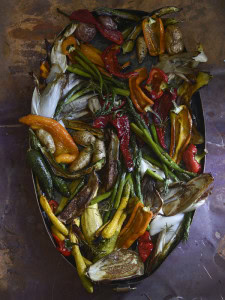 You might think that ROASTED VEGETABLES  do not need a recipe, and in theory, I agree. Yet too many cooks will mask vegetables with a fancy sauce, so I offer this recipe to prove that vegetables, when slowly roasted, have extraordinary power to please.
Not every vegetable can be roasted with success, however, and this recipe reflects my tried and true medley, with tiny young eggplant, colorful potatoes, wispy asparagus, and delicate endive, along with the usual suspects: zucchini, summer squash, and sweet peppers.
Cut the vegetables and set on a baking tray cut side up. Give each piece enough room to cook fully, dress lightly with olive oil, and stick in a slow oven to roast. Once cooked, they can be served on pasta or as a side dish.
This recipe for ROASTED VEGETABLES has been adapted from my new upcoming book, The Vermont Country Store Cookbook, with photos by Mathew Benson.
Roasted Vegetables
Serves 4-6
¼ to ½ cup extra virgin olive oil, divided
2 pounds assorted small potatoes, scrubbed, unpeeled, and whole
2 endive heads, cut in half lengthwise
1 small eggplant, cut into thick wedges
2 sweet peppers, red or green, seeds removed, cut in half
1 small zucchini, sliced in half lengthwise
1 small yellow squash, sliced in half lengthwise
1 bunch (1 pound) thin asparagus, left whole
2 sprigs of rosemary
2 sprigs of sage
1 teaspoon sea salt
½ teaspoon freshly ground pepper
Sprigs of thyme, oregano, or parsley for garnish
Preheat oven to 400°F. and adjust rack to middle position.
Pour a small amount of olive oil on the bottom of a 13 x 9-inch baking pan, and lay the vegetables flat, with "cupped" side up to hold the oil you're about to drizzle. The whole pan will be full, yet try to keep everything in one layer, tucking the vegetables close to each other so they remain succulent during the cooking process. This is the key, otherwise they may dry out. Since the asparagus is thin, push the stalks in a little pile or bunch; they tend to cook faster and this keeps them from wilting. All will cook at different temperatures, and you will want to remove the vegetables as they are done roasting. For instance, the potatoes will take longer to cook than the eggplant or asparagus.
Evenly pour the remaining olive oil over the vegetables. Tuck rosemary and sage sprigs into the vegetables, and season with salt and freshly ground pepper. I've given you a measurement, but use your own judgment for how much to use of each; I prefer to be liberal with both salt and the ground pepper, since this can really give it good flavor.
Place vegetables in the oven and roast for 20 minutes. Remove pan from oven and flip vegetables so they cook evenly. Turn oven down to 325°F., return pan to oven and roast for 30 minutes more, and then check to see if delicate vegetables are done. Remove vegetables that might be ready before others, placing them on a serving dish and tenting loosely with foil. Return pan to oven for 10 minutes more, or until all vegetables are done.
Serve on a platter, neatly and colorfully arranged. Garnish with sprigs of thyme, oregano, and/or parsley. Serve as a main dish, a side dish, or served over a hearty pasta.