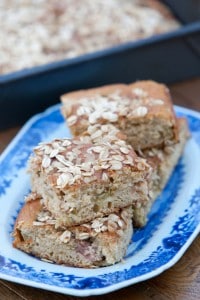 Makes one 9′ X 13′ pan / 10 servings
The sour of the rhubarb balances with the sweet spicy crumb topping in this recipe for Rhubarb Crumb Cake. Especially good as a morning treat or served with afternoon tea.
Rhubarb, a reliable perennial, rewards the gardener with ample fruit for pies, cakes and jams from early spring until the end of strawberry season. If you have a cool summer, it can continue all summer. In other words, it's a long season crop that makes it handy for making this delicious rhubarb cake, many times over.
Ingredients
1 1/4 cups milk
1-tablespoon cider vinegar
2 1/4 cups unbleached all – purpose flour
1-teaspoon baking soda
1-teaspoon sea salt
8 tablespoons ( 1 stick) unsalted butter at room temperature
1 cups packed light or dark brown sugar
1 large egg
1/4-cup plain yogurt
3 cups rhubarb, sliced 1/2 inch thick – leaves removed*
1/2 cup currants or dried cranberries
Topping
1/2 cup packed light or dark brown sugar
1/2 cup walnuts
¼ cup sunflower seeds
1-teaspoon ground cinnamon
½ teaspoon ground ginger
¼ teaspoon ground cloves
Instructions
Position a rack in the center of the oven and preheat to 350*F.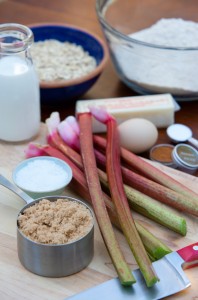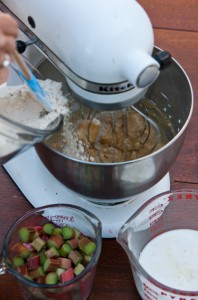 Lightly butter and a 9 X 13 inch baking pan. Combine the milk and vinegar and let stand until the milk curdles, about 5 minutes. Mix the flour, baking soda, and salt to combine. In the large bowl of a blender, cream the butter and brown sugar together until light and fluffy, about 3 minutes. Beat in the egg, and the yogurt. Gradually add the flour and the milk, alternating each until both are incorporated. Fold in the rhubarb and dried fruit, blend and spread the batter evenly in the pan.
In the bowl of a food processor with a blade, grind the topping ingredients together; sugar, walnuts, sunflower seeds and spices and sprinkle evenly over the batter. Place in the preheated oven and bake for 40 minutes. Remove from the oven and cool slightly before serving.
*To preserve rhubarb for winter use, simply remove the leaves, and chop the stalks into 1-inch pieces and freeze in self-sealing back.