Description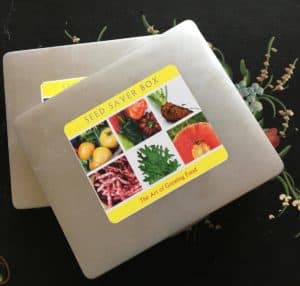 I'm psyched to be able to offer these nifty little Seed Saver Boxes with a full set of sturdy aluminum containers, tight-fitting glass tops, and a lid that keeps everything airtight and snug as a bug. These seed saver boxes will not only keep your seed collection in tip-top shape, but you will be better organized and more relaxed in the spring when it comes time to order your seed. You'll see in a glance how much seed you have left. Sow directly from the canister, snap on the lid, and it stays weather- and moisture-proof.
Seeds are beautiful. As living organisms, they deserve respect. Seeds are remarkable, mysterious, and worthy of praise and attention – it's time to get them out of the paper packets and into glass containers. This not only keeps them more viable, but you can admire your gorgeous little collection. Open the lid and gaze at all the sizes, colors and shapes of your home grown seeds. All from a source that you trust – your own garden.
Save money on seeds and order a few boxes. The seed saver box comes in two sizes for small and large seeds. Both hold ample seeds for a moderate-sized home garden.
Measures: 6.5″ X 5.25″ | Please note: Two sizes: #20 (1-inch) tin boxes or #12 (1 1/2-inch) tin boxes