Description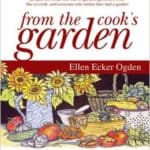 FROM THE COOKS GARDEN was published in 2003, by Harper Collins Publishers. Illustrated by Mary Azarian, featuring 125 garden- to – table recipes. The inspiration for this book came from recipes that were created for The Cook's Garden seed catalog, to encourage gardeners to try growing something new in their gardens.
In From the Cooks Garden you'll find chapters that feature Salads and Dressing; Lunches and Light Meals; Main Course; Side Dishes; Pizzas, Breads and Muffins; Dessert and Preserving the Bounty.
Over 80 recipes which include Caramelized Onion Tart, Ginger Carrot Soup, Polenta with Tuscan Kale, Mashed Turnips with Apples, and Pesto Swirl Bread.
Full color illustrations by Vermont Artist, Mary Azarian are exceptionally lovely, as is the forward by Deborah Madison.
From the Cook's Garden is currently out print, yet a limited number of original copies are available by the author, as well as used copies in good condition.  Hardcover.252 Pages.
Price: $40. for new, a collectors item. $20. for used, in good condition. Both available autographed.