Description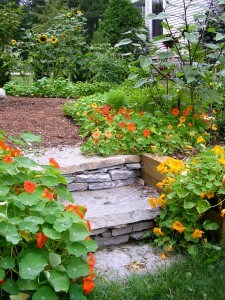 Author ELLEN ECKER OGDEN offers one and half hour expert design consultation to review to better manage your kitchen garden. She will visit your site, and leave you with a rough sketch for how to manage your space more efficiently, ideas for what to plant and where, and how to art creative artful elements based on her unique six steps to success.
Garden too big? Let's make it more manageable. Not enough time? Let's look at quick, easy crops that will provide you with fresh food in a hurry. Can't manage the weeds? Let's find a solution to better soil and a more efficient design. Don't like the location? Let's look at the site.
Ellen will visit your garden in person, if you are nearby or at one of Ellen's lecture locations. Or you can send photographs and we can work long distance. Each garden consultation takes about 1 1/2 hours, and includes a simple, yet workable sketch of a final garden design. For a more detailed garden design, longer sessions are available. Contact Ellen for availability and fees.
The ultimate, customized kitchen garden design fits your lifestyle as well as your landscape, rewarding you the best tasting  harvest all summer long. Sign up for this one and a half hour consultation with kitchen garden design expert, Ellen Ecker Ogden, and you'll get individualized attention to make sure you are starting off with a garden design and planting schematic that is efficient, productive and beautiful.