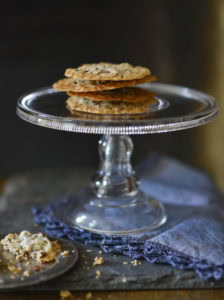 Pecan Lace Cookies are forever imprinted in my mind as the ultimate Christmas cookie, thanks to a generous neighbor. They are sweet, yet also healthy with nuts and oatmeal, and a far cry from the typical white sugar cookies that I made with my children.
My first introduction to Pecan Lace Cookies was during a snowfall in one of my first winters in Vermont. A neighbor pulled up in her four-wheel-drive Subaru bearing a shoe box with a ribbon wrapped around it. "Don't wait until Christmas to open," she said, and slowly backed her car down the long icy driveway.
What struck me was how this memory has lasted so long, imprinted because of her generosity, spending time baking on a cold wintery day to share a gift from her kitchen to mine. The cookies were crisp, buttery, and delicate, the way a perfect sweet morsel should taste. I confess that I did not stop at eating only one, but managed to leave just a few to share with my children when they returned home from school, then hid the rest for myself.
Years later, I recreated this recipe for my cookbook, The Vermont Country Store Cookbook, and the photo above was taken by Matthew Benso, and his team of food stylists. I can't take the credit for the originality of this recipe, because it is classic, yet I believe it is derived from my neighbor's recipe, who I hope continues to bake them, spreading joy and good food around the holiday season.
I love these cookies because they have a nice crunch, and since they are a little crumbly, they are not the grab and go variety of cookie, but demand they be eaten sitting down with a plate.
Take your time, enjoy them with a pot of tea or bring a plate to a friend. They will transport you back to Grandmothers table. Easy to make and require only a single saucepan, so the clean up time is next to nothing.
Here's the recipe. Click Pecan Lace Cookie Recipe to download a printable version.
Pecan Lace Cookies | Makes 24 cookies
3/4 cup pecan pieces
6 tablespoons (3/4 stick) unsalted butter
3/4 cup rolled oats
1/2 teaspoon salt
3/4 cup sugar
1/4 cup unbleached all-purpose flour
2 tablespoons milk
Preheat the oven to 325°F.
Line a rimmed baking sheet with parchment paper and spread the pecans evenly on the baking sheet. Toast in the oven for 15 minutes, until fragrant and lightly browned. Remove from the oven. Keep the oven on, and leave the parchment paper on the baking sheet after you spoon off the nuts in the next step.
In a medium saucepan, melt the butter over medium heat. Turn off the heat and stir in the oats, pecans, and salt. Stir and let sit for 10 minutes. With a wooden spoon, stir in the sugar, flour, and milk until combined to form a thick batter.
Scoop out 2 tablespoons at a time and press the batter onto the parchment paper–lined baking sheet. Leave 2 inches between the cookies, since they will expand as they bake. Dip a spatula in water and flatten the cookies. Bake for 20 to 22 minutes, until golden. Remove and let cool on a wire rack.