It's midsummer, and I am split between the summer and the fall garden: one is turning brown around the edges with the garlic and onions ready to pull and the tomatoes starting the downward slope to blight, while the kale, chard and Brussels sprouts are just picking up stride.
Oddly, I feel a slight sense of disappointment because not everything worked out as planned. The beans were eaten to a stub by rabbits, the cucumbers are misshapen due to too much early rain and the drought, and the artichokes, peppers and eggplant never produced the bounty I had in mind when I gave them the best real estate in the garden.
My sister, Emily, spent more time than usual in her garden this summer and what she is most excited about are cultivating the weeds. She writes, " It seems that I weeded too well last fall because those those 'weeds' I love to eat disappeared. This year, I am happy to have an abundance of lambs quarters, sorrel, purslane, chickweed." Proof that it is all about attitude.
I told her about a new book I was reading: Eating on the Wild Side, the missing link to optimum health. Gardeners will always be gardeners, and we know that it is not just about the food we grow, because the real thrill comes from planning the garden in winter, planting seeds in spring and grazing all summer. It's a year-round love affair with the great outdoors, regardless of the challenges.
Even though the days are a little shorter, the mornings are cool enough to bake, so this morning I turned the oven up to 400* and to make Baba Ganoush. It starts with a whole eggplant, baked until soft, then blended with tahini, pine nuts and herbs. The recipe is from one from my first cookbook, From the Cook's Garden, and I was surprised at how easy it is to make and how delicious it was to eat still slightly warm from the oven. My recipe follows below, but I didn't think to take photos while I was making it, so here is a link to David Lebovitz blog, with photos and a similar recipe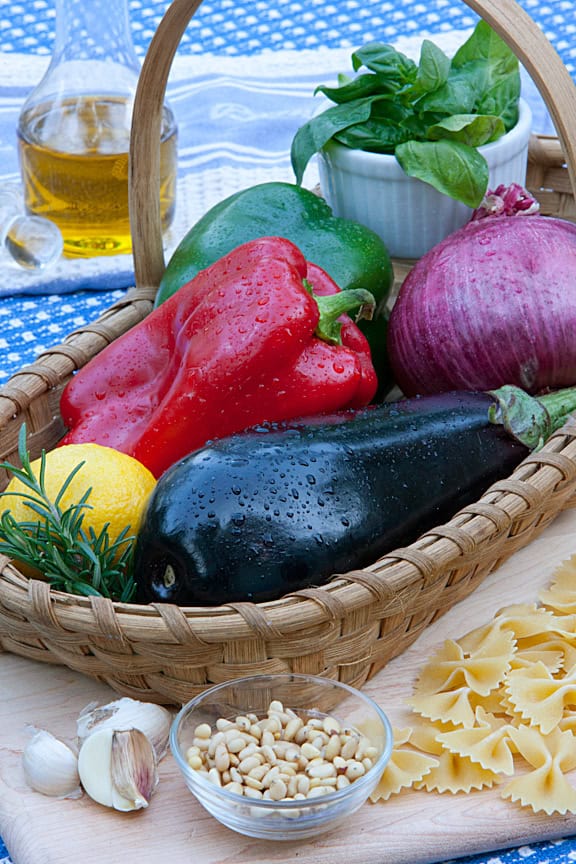 Baba Ganoush
Makes 2 cups
Serve with pita bread and olives for lunch or as an appetizer.
1 large eggplant
1/2 cup pine nuts or pecans, toasted
1/4 cup finely chopped fresh parsley and or cilantro
3 tablespoons sesame tahini
1 lemon, squeezed into lemon juice
2 garlic cloves, inced and smashed
Sea salt and fresh ground pepper to taste
Preheat the oven to 400* Prick the eggplant a few times with a fork and place on a baking sheet. Bake until the eggplant is soft, and collapses, about 40 minutes. Cool until easy to handle. Scrape the flesh form the skin into a food processor: discard the skin. Add the nuts, parsley and cilantro, tahini, lemon juice, garlic and salt and pepper to taste. Process until smooth. Transfer to a serving bowl. Serve immediately or cover and serve chilled.