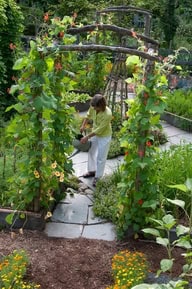 Click here for a link to my Landscape Design Consultation
When I work with clients to develop a new design, or transform an existing garden to make it more aesthetically pleasing, we start by looking at photos of their dream garden, and then the site from all angles: inside the house, the view from the entrance, and how it feels to sit inside the garden on a bench.  Once we settle on a design, we take an imaginary walk-through before the actual work begins.
Getting the plan right at the start, on paper and before digging up the soil, leads to a more successful long term plan and more successful garden. Keeping it as natural as possible, and a little wild.
About my designs:

As an artist, a cook and a gardener, I am inspired by classic European gardens that contain tried-and-true proportions, geometric shapes and formal borders.  Years ago, I joined the Garden Conservancy to experience world class gardens, which has added to my education about garden design, and fed my creativity. Below are designs from my book, The Complete Kitchen Garden, largely based on a four square design that I feel is more efficient and reflects an organic rotation system that feeds the soil, and ultimately your plants.