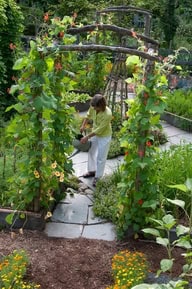 About my designs:

Gardens are a reflection of the gardener: methodical, painterly, or sometimes just plain whimsical. The fifteen theme gardens in my book, The Complete Kitchen Garden reflect a personality type to give you plenty of options for how to create the kitchen garden of your dreams.
Are you a salad lover, a patio gardener or growing a large family garden? Perhaps you prefer growing heirloom plants and saving the seeds? My goal is to make it easy for you to experience the pleasure of planting a seed, watching it grow, and then eating the harvest.
Each of the garden designs in my book offers a DYI approach to garden design, to help you pick and choose elements to create your own signature style. Since we all start with the same three ingredients: seeds, plants and soil, making our gardens unique is up to us.
As an artist, a cook and a gardener, I am inspired by classic European gardens that contain tried-and-true proportions, geometric shapes and formal borders. I'll admit,  most of my best ideas have come from other gardeners, and I love a good road trip to visit historic kitchen gardens, botanic gardens. Years ago, I joined the Garden Conservancy to experience world class gardens, which has added to my education about garden design, and fed my creativity.
When I work with clients to develop a new design, or transform an existing garden to make it more aesthetically pleasing, we start by looking at photos of their dream garden, and then the site from all angles: inside the house, the view from the entrance, and how it feels to sit inside the garden on a bench.  Once we settle on a design, we take an imaginary walk-through before the actual work begins.
Getting the plan right at the start, on paper and before digging up the soil, leads to a more successful long term plan and more successful garden.
Here are three ways to jump start your own design:
Buy my book, The Complete Kitchen Garden
Sign up for my on-line garden class with Craftsy.com
Contact me for a design consultation.