It was getting close to my birthday, when John popped that question all women want to hear. " What can I make you for your garden?" I had just put in place a bamboo trellis to run the morning glories up and over, and the William Baffin rose to clamber, but I knew this was only a temporary solution. In other years, this easy to make, yet lightweight trellis topples over by mid-September from the weight of the vines. "How about a sturdier and more decorative bent twig trellis?" I suggested.
John Hadden  is a professional actor, director and author of a new book coming out this spring, Conversations with a Masked Man and found that he had a little window of time in between gigs to accommodate my request.  I offered to show him pictures or search the web for ideas, but being the creative type, he had his own idea.  He's clever with wood, too, and after taking the measurement for the width across the top of the walkway that leads into the garden, he went into his woods and harvested a few young trees.  Stripping off the branches and leaves, he wedged them between large stones to bend, and left them for a few days until they held the shape. Two days before my birthday, he tied them onto the back of his truck, and brought them to my place.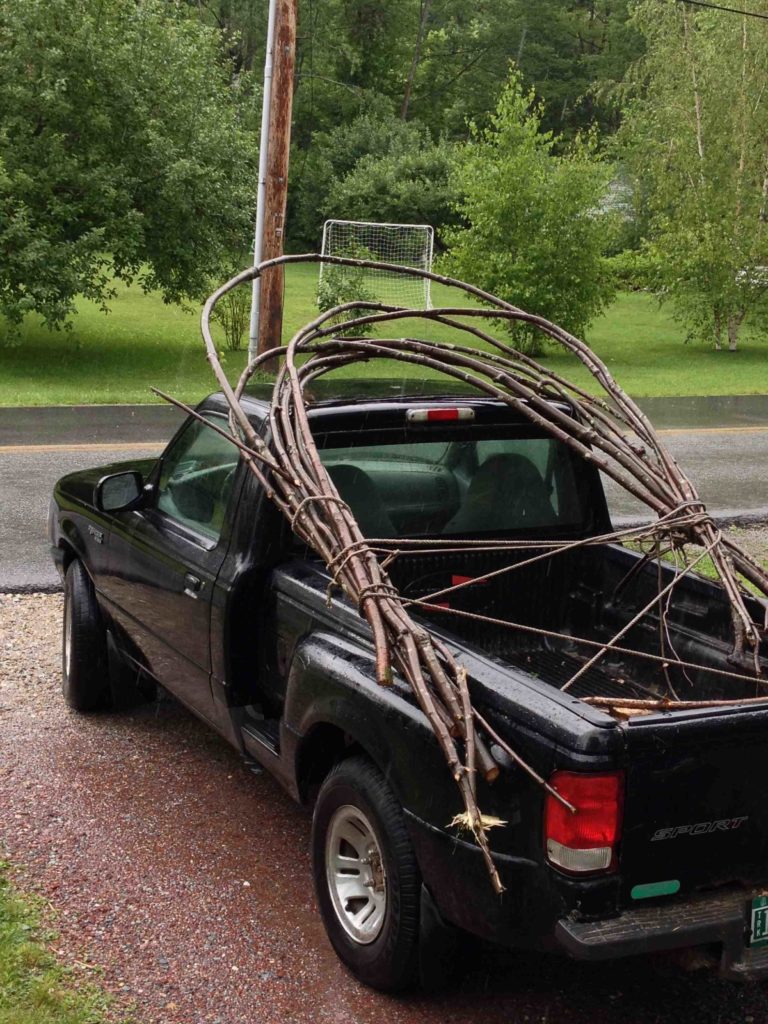 A natural trellis is one of most beautiful ways to enhance and create a portal into the garden, and in my garden talk, The Art of Growing Food, there is a photo of a kitchen garden with an ornamental, rustic trellis. People always ask me how to make one, so I thought it would be helpful if I followed John around with my camera to see how, and to give you a glimpse of what is involved. The first challenge John faced was to keep the bent trees in place and to give them a secure base. He figured out a clever system that involved drilling holes into a block of wood just large enough to fit the bent wood pieces into a slot. He made two of these braces, one for either side of the walkway, and jammed them into the earth with wood inserts to hold them in place.
Next,  the bent wood was inserted into place, starting with the tallest piece first which looked a little high – about 7 feet tall – yet then as the other layers began to fit into place, the archway took on an elegant free-form shape. It was clear that this was no simple trellis, like the one that I had originally had in mind, and was indeed far more grand. As John continued to craft  and bend the young trees into place, the arch took on a life of it's own. This simple rustic trellis became a magnificent sculpture, that brought nature together with art, leaving an indelible mark on my own garden design. But it was clearly out of my control.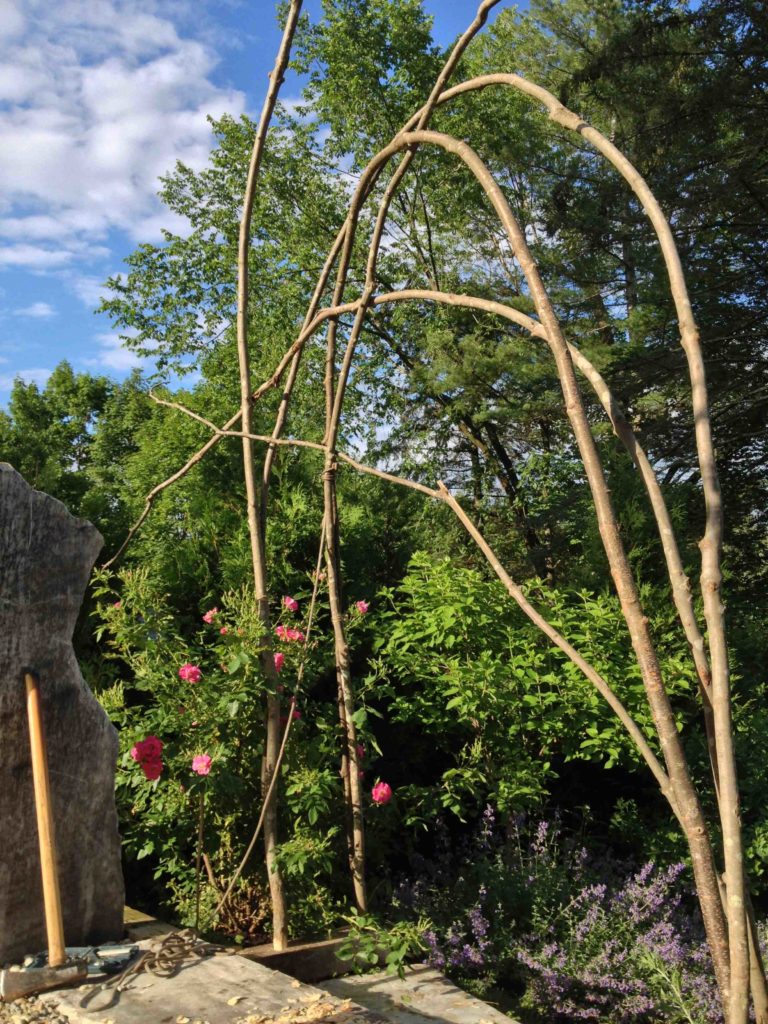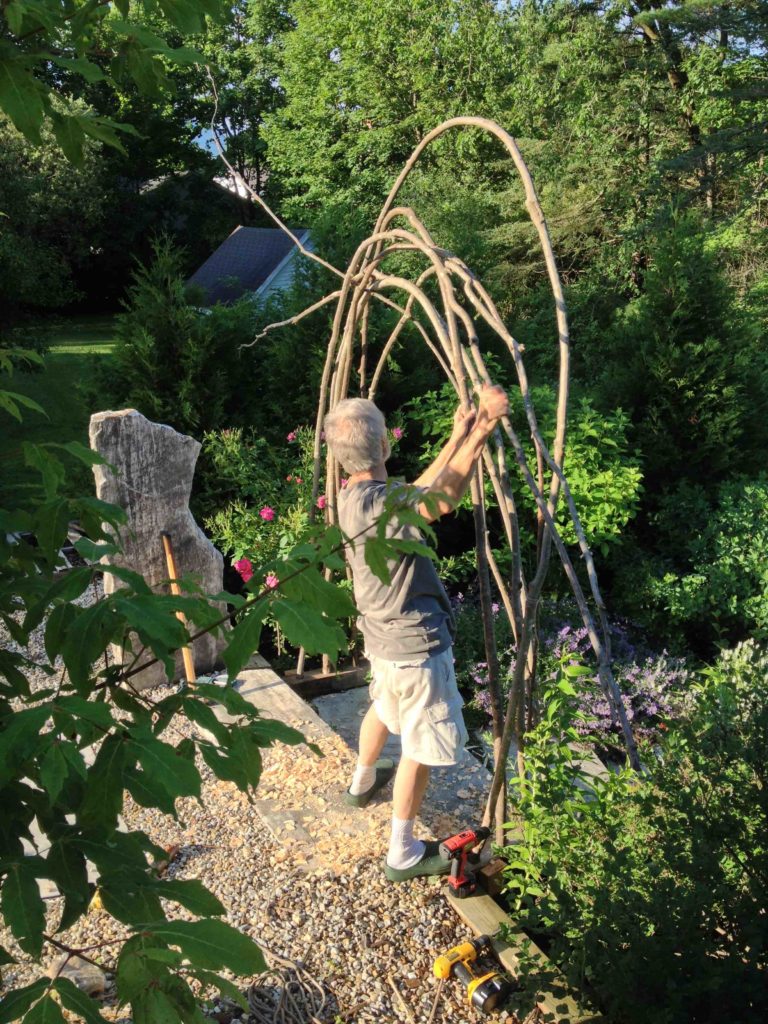 Once each layer was securely in its place,  a few of the twigs were lashed together with natural jute twine.  The roses watched patiently and could hardly wait to get started on the climb, already plotting where they would grasp on.The final act was to weave smaller vines of bittersweet,  harvested the summer before, to curve around the larger pieces and tighten the gaps. These added a bit of whimsy and character, with the outlying pieces springing away from the center to become an ideal perch for passing birds.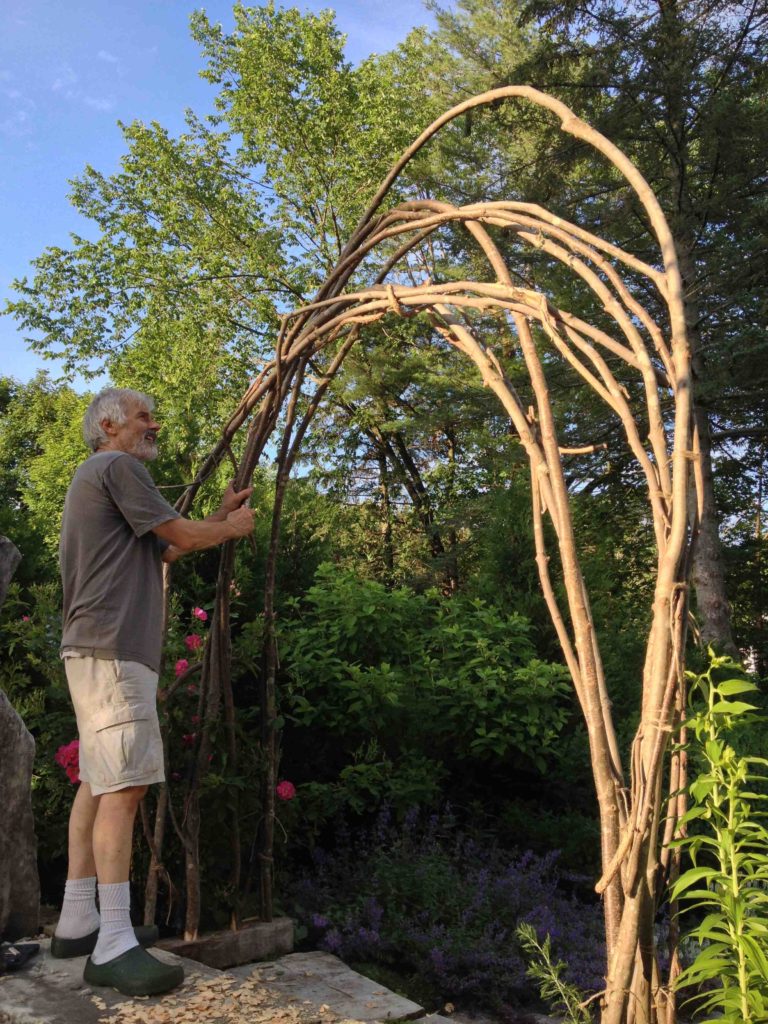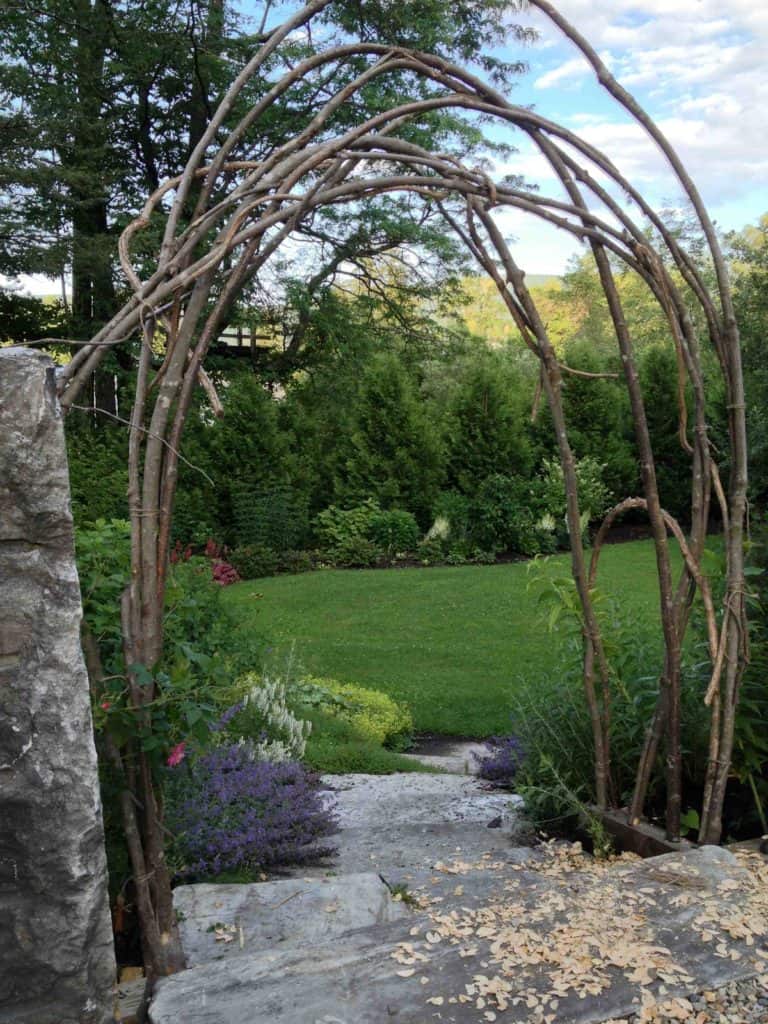 Ah! The trellis is done!  Without a doubt, this is the nicest homemade birthday gift, I have ever received. A kiss for the trellis and an even bigger kiss for the trellis maker.  Thank you, John.