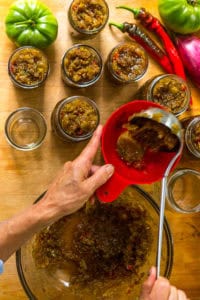 Green Tomato and Pepper Piccalilli
6 pints
The key ingredient in piccalilli is green tomatoes, but I couldn't wait for the end of the season. The sweet peppers were ready and all my canning kettles were up from the basement, so I decided to make a small batch. Like most pickle recipes, this can take two days to prepare, yet I cut corners and made it in a single afternoon. It takes a bit of time to chop the vegetables, but not long to actually cook.
Once you've started making pickles and tasting the difference between homemade and store-bought, this recipe may become part of your late summer routine. Serve with hotdogs or hamburgers, use as a topping for meatloaf, or blended with mayo to make a nice tartar sauce for fish.
6 pounds green tomatoes, coarsely chopped into bite size pieces
3 large green peppers (or a mixture of red and green), coarsely chopped (4 cups)
4 large yellow onions, cut in half and thinly sliced into half moons (4 cups)
1/2 cup kosher salt
1 cup brown sugar
1 cup white sugar
1/2 teaspoon ground cloves
1/2 teaspoon ground cinnamon
1/2 teaspoon ground allspice
1/2 cup yellow mustard seeds
2 cups cider vinegar
In a very large stainless steel bowl, layer all the vegetables with the salt. Cover with a kitchen towel and leave for several hours. This takes the moisture out of the vegetables.
In the morning, drain all the vegetables in a large colander, wash bowl, and put vegetables back into bowl. In a food processor fitted with the steel chopping blade, pulse the vegetables in small batches to a medium-fine chop; be careful not to turn them to mush! Transfer to the colander again to drain out excess liquid.
In a large stockpot, combine the sugars, spices, mustard seeds, and vinegar and simmer until the sugar is dissolved. Add the chopped vegetables and simmer over low heat for 1 hour, stirring occasionally with a wooden spoon. You'll know it is ready when the piccalilli still has some liquid, turns from bright green to a brownish green (not as attractive), and looks glossy.
While the piccalilli is cooking, wash 6 pint mason jars and lids, and sterilize them in hot water. When the piccalilli is ready, place a funnel in the jars and ladle the hot relish into the jars. Wipe the rims clean with hot water, and place seals and lids. Turn upside down to vacuum pack. Place in hot water bath for another 10 minutes. Remove, cool, and label.