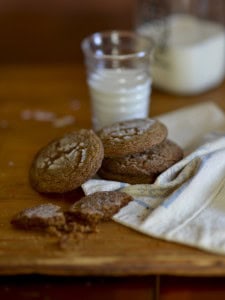 Makes 4 dozen cookies
Ginger snap cookies have been standard New England fare for decades. I've added more ginger and other spices, with a crunchy dusting of sugar. Tempting as an afternoon snack, or better yet, stuff the ice cream inside two cookies to make a sandwich. This recipe makes a big batch, so plan to reserve half in the freezer when you needs something sweet while reading seed catalogs and designing your kitchen garden.
Printable PDF recipe: Ginger Snap Cookies
2 1/4 cups all purpose flour
2 teaspoons ground cinnamon
2 teaspoons ground ginger
1/2 teaspoon ground cloves
2 teaspoons baking soda
1/2 teaspoon salt
1 cup light brown sugar, packed
1 cup (2 sticks) sweet unsalted butter, at room temperature
1 large egg, at room temperature
1/3 cup molasses
1/2 cup Turbinado (or coarse) sugar
Preheat the oven to 350°F. Line 2 cookie sheets with parchment paper.
In a small mixing bowl, add the flour, cinnamon, ginger, cloves, baking soda, and salt and stir to blend.
In the large bowl of an electric mixer, cream together brown sugar and butter until light and fluffy. Add the egg and beat until blended. Scrape down the sides of the bowl and add the molasses. With the mixer on low, add the dry ingredients and mix until just blended. The batter will be thick and sticky.
In a small bowl or plate, pour out the 1/2 cup of granulated sugar. Using a tablespoon, scoop out a spoonful of dough. Roll between your fingers into a 1-inch ball, and coat with granulated sugar. Place on the cookie sheet, and repeat, keeping each cookie dough ball about 2 inches apart. For a flatter cookie, press the tops of the dough with a fork to flatten them slightly. Or keep them rounded, and they will develop the familiar crack in the top as they bake.
Bake the cookies 12 to 14 minutes, or until they are golden brown. Remove from the oven and transfer onto a wire rack to cool.