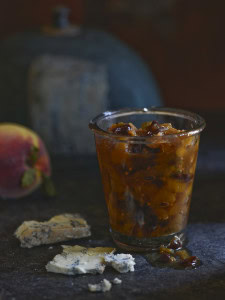 GINGER PEACH CHUTNEY is a condiment made from fresh fruits and strong spices, it simmers on the stovetop for almost an hour until it reaches a glossy sheen; packed into jars and stored for several months to build up plenty of intense flavor.
It was in late September, with the leaves changing color out side my kitchen window and the counter tops filled with signs of the summer's harvest when I took a chance. As a seasoned gardener, I had already packed up dozens of jars tomatoes, pickles, jams, and frozen pesto by the pound, yet was not quite ready to put away the canning kettle and had a case of clean jars on hand.
I consulted a neighbor who had given me a jar of her ginger peach chutney the Christmas before, and she shared her recipe along with sage advice. " You can't take shortcuts with chutney." She admonished. " It's not like making jam where you just add pectin, stir and fill up your jars. Chutney is cooked for a very long time on the stove, slowly. Like making a quilt, it's made with a sprinkling of love and every batch will turn out different."
Putting food by means something different to everybody, but is a term that is used to preserve the summer harvest season. A hundred years ago, the choice was not an option, yet in today's world putting food by means taking time away from fall hikes, sports events, movies, gardening and a thousand other reasons for not spending a beautiful day in the kitchen steaming up the windows with the sweat from simmering kettles.
Here is my recipe, adapted from The Complete Kitchen Garden and my newest book, The Vermont Country Store Cookbook. Photo Credit: Matthew Benson.
Makes 6 pints
2 cups brown sugar
2 cups cider vinegar
1 large yellow onion, halved and thinly sliced into half moons (1 cup)
1 fresh cayenne hot red pepper, seeded and minced
1 fresh jalapeno hot pepper, seeded and minced
1 tablespoon pickling or kosher salt
1 tablespoon yellow mustard seed
4 pounds ripe (not overly ripe) peaches (about 8 peaches)
1 cup dried cranberries or currents
1/2 cup crystallized ginger, snipped into small pieces
In a large stockpot, bring the sugar and vinegar to a boil over medium high heat, stirring to dissolve the sugar. Stir in the onion, hot peppers, salt, and mustard seeds. Reduce the heat to medium and cook at a brisk simmer for ten minutes.
Meanwhile, bring a large stockpot of water to a boil, and gently immerse the peaches.
Remove after one minute, drain, cool slightly in a colander, and slip off the skins. Over a large bowl, pit peaches and cut into slices and then into roughly ½- to 1-inch chunks. There will be about 6 cups of chopped peaches. Drain the excess juice that will collect in the bottom of the bowl (it is a wonderful sweet nectar for the cook to drink!) and add the peaches to the simmering vinegar brine. Stir in the cranberries and the ginger.
Continue to simmer over low-medium heat and allow the chutney to cook for about 45 minutes, stirring occasionally, until the peaches and the brine take on a glossy look. Take care not to overcook the peaches, because they will cook again once the canning jars are processed, and it is best to have chunks remain.
Once you've deemed the chutney ready, fill 6 pint-sized sterilized jars; wipe the rims clean with a hot towel and screw on the sterilized lids. Flip upside down to seal.. Place in hot water bath for 10 minutes, remove and cool. Label and set on a shelf in a cool dark place for a minimum of 3 months.
CLICK HERE FOR PDF PRINT VERSION: Ginger Peach Chutney Recipe