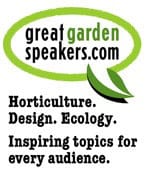 ELLEN ECKER OGDEN is a garden speaker and author of five books, including The Complete Kitchen Garden. She co-founded The Cook's Garden seed catalog in 1985, introducing home gardeners to the best-tasting vegetables for cooks who love to garden. 
She is an award-winning food and garden writer, and a kitchen garden designer who is known for her informative and fun-loving garden talks. Her kitchen garden designs have appeared in The New York Times, The Boston Globe, Martha Stewart Living, Better Homes and Gardens, and Country Gardens, and other magazines.
She combines art with classic garden design techniques to elevate a backyard vegetable garden into European-inspired kitchen gardens. Her popular lecture, "The Art of Growing Food," features 6 steps to successful kitchen garden design. To book a lecture and discuss fees, contact Ellen. 
Printer Friendly: Ellen Ogden Lectures. 2017-18
Lectures for the 2018 Season: upcoming lectures – more to come!
January 9-10: Keynote: Landscape Ontario Horticultural Trades Association
January 20: Keynote: North Central, WI, Master Gardener's Winter Conference
February 17: Dow Gardens, Midland Michigan
February 20: Edith J. Carrier Arboretum
February 25: Phillipstown Garden Club, Garrison, NY
March 10: Loudon Virginia Master Gardeners
March 17: UCONN Master Gardener Symposium, New London, CT ( Connecticut College)
March 20: Hopp Ground Garden Club, Bedford, NY
March 27: Hortulus Garden Club, Greenwich, CT
April 7: Gardeners Supply Co. Burlington, VT ( morning)
April 7: Fort Ticongderoga Garden Symposium ( afternoon)
April 9: Federated Garden Club of Virginia: Richmond, VA
April 18: Tuckahoe Garden Club
May 8: Greenwich Green Fingers Garden Club
June 13: Boothbay Garden Club
Lectures for the 2017 Season 
February 4:  Longwood Gardens Symposium 
February 17-18: Green Bay Botanical Garden 
February 25:  Farquier & Loudon Club, Virginia 
March 2- 5: West Michigan Home and Garden Show  
March 11: Gardeners Supply Co. Burlington, VT
March 14: Bedford, NY: Hopp Ground Garden Club 
March 18:  Cornell Cooperative, NY Master Gardeners – All day
March 21: Newburyport Garden Club
March 24: Shenandoah Valley Plant Symposium: Waynesboro, Virginia 
March 28:  Community Club of Cohassett Garden Club
March 28:  North Shore Horticulture Society 
March 29: Appleton Farms, Ipswich, MA
April 3: Monson Garden Club, Monson, MA
April 6:  Amherst Garden Club, Amherst, NH 
April 11: Greenwich Garden Club
April 11:  Community Club of Duxbury
April 12:  Worcester Garden Club
April 13: Resenburg, LI
April 18:  Trenton Garden Club@
April 19:  Garden Club of Morristown Kimmer Library
April 20:  Scituate Garden Club
April 23: Greenfield Garden Club
May 3:  Dennis Garden Club
May 12: Worcester Garden Club
May 16: Rye Drifters Garden Club, Rye, NH
May 17th: Garden Club of Cohassett
June 8th: Des Moines Botanic Garden Luncheon
June 9: Books and Blooms – Cornwall, CT
June 10th: Tower Hill Botanic Garden (coming to Manchester)
June 17th: Williamstown Garden Club
June 25th: Newport Flower Show – Newport, RI
August 6: Morrill Homestead, Strafford, VT
September 7: West Hartford Garden Club
September 12: Cape Ann Garden Club
October 10: Horticulture Society of Maryland 
October 12: Easton Garden Club
October 18:  New England Herb Society
October 19: Bennington Garden Club
November 12:  Long Island Horticultural Alliance Society
Lecture Calendar for 2016 Season
January 6-7| Missoula Montana Green Expo
February 3 | Annapolis, Maryland Horticulture Society
February 4 | Delaware Center for Horticulture
February 16 | Concord Garden Club
March 7 | Lincoln, MA Garden Club
March 20 | Boston Flower Show
March 22 | Tamworth, NH | Public Library
March 23 | Freedom, NH | Town Hall
March 23 | Conway, NH | Public Library
April 5 | Hartford, CT Garden Club
April 10 | Parks Place | Alyson's Orchard
April 12 | Princeton, NJ Garden Club  
April 13 | Hingham, MA Garden Club  
April 20 | North Shore Garden Club
April 21| Newport Garden Club
April 22 | Springfield, MA Garden Club
April 23 | Master Gardeners Conference | Michigan State University
April 24 | Traverse City, MI | Botanic Garden |  Lecture & Design Workshop
April 29 | Rutland Free Library
May 3 | Greater Island Garden Club, New Castle, NH
May 5 | West Hartford Garden Club, CT
May 9 | Fox Hill Club | Westwood MA
May 10 | Darien, CT Garden Club
June 14 | Scituate Ladies Club
June 17 | Old Lyme, Connecticut
September 13 | Chestnut Hill Garden Club
October 24 | Garden Club of Madison NJ.
October 27 | Landscape Design at Mass Hort
November 9 | Garden Club of Somerset Hills, NJ
December 3 | Duke Farms – NJ. All Day Garden Design workshop
Archive of Lectures Locations: 2014-2015
Fernwood Botanic Garden 
Philadelphia Flower Show 
Milton, MA Garden Club 
Boston Flower and Garden Show 
Junior League Garden Club – Wellesly, MA
Gardeners Supply Co. 
Garden Education Center, Greenwich, CT 
Millbrook, NY Garden Club 
Welfleet, Mass. Garden Club 
Inn at Weathersfield – Cooking class and workshop
Syracuse, NY Garden Club 
Tower Hill Botanic Garden – lecture and workshop
Garden Club of Englewood, NJ 
Spencertown Academy – Garden Symposium and Tour
Maine Botanical Gardens Symposium
Dublin, NH – lecture and garden tour
Massachusetts Horticulture Society 
Monticello Heritage Harvest Festival 
Chappaqua Garden Club 
Des Moines Botanical Garden – Lecture and Symposium
Groton Garden Club
Filoli, Woodside California
Boca Grande Garden Club, Florida
Rhode Island Flower Show
Rutgers University
New England Flower Show
Weston Garden Club
Goshen Connecticut Garden Club
Gardeners Supply Co
Colonial Williamsburg Garden Symposium
Rusticus Garden Club, Bedford, NY
Sustainable Living Series, Vermont
Rutland Garden Club
Filoli: Woodsville, California
Bedford Garden Club: Bedford, NY
Berkshire Botanical Garden
Coastal Maine Botanical Garden
Connecticut Flower Show: Hartford, CT
Feast for the Eyes Symposium: RJD House
Fells House. Newbury, NH
Fernwood Botanical Garden: Niles, Michigan
Fletcher Allen Hospital
Gardeners Supply Co.
Glynwood Education Center
Great Gardens Symposium: Equinox Resort, Manchester, VT
Kansas City Garden Symposium
Kripalu Retreat Center
Massachusetts Master Gardeners: Keynote Annual Symposium
New York Master Gardeners: Keynote Annual Symposium
Mid-Atlantic Hort Seminar: Virginia Beach, VA
Museum of Science
NOFA-NJ & NOFA-VT Annual Conferences
Norwich Bookstore, Norwich, Vermont
Princeton, NJ Garden Club
Rhode Island Flower Show
Rhode Island Master Gardeners
Rowe Conference Center
Shelburne Farms
The Culinary Guild of Boston
Tower Hill Botanic Garden
Unicorn Writers Workshop
Vermont Flower and Garden Show
Vermont Master Gardeners
Vero Beach Garden Club
White Flower Farm Tomato Fest
Woodstock Garden Club