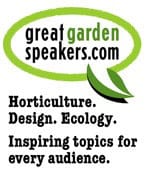 Garden Speaker, ELLEN ECKER OGDEN is an award-winning food and garden writer, and a kitchen garden designer who is known for her informative and fun-loving garden talks. Her kitchen garden designs combine artistic elements with classic garden design techniques that elevate a backyard vegetable garden into a European-inspired kitchen garden.
The Art of Growing Food
55 minutes. Lecture with photo presentation. Books available.
In my popular presentation "The Art of Growing Food," you'll learn how to grow an edible garden with an eye towards beauty, easy care, and pleasure. A true kitchen garden opens your senses both in the garden and in the kitchen, and in this 55-minute presentation, you will learn my 6 steps to successful kitchen garden design, based on classic design techniques that anyone can follow.
Take home design ideas to transform your current garden or start something new with my 6 steps to success. Just imagine walking barefoot into your garden, filling a basket with tiny artichokes, fresh snap peas, purple basil tips, tiny rainbow chard or clumps of spoon-shaped lettuce!
This lecture is ideal for new and experienced gardeners, and anyone seeking fresh ideas for how to design and plant a kitchen garden rich in details, that will beckon you to sit on the garden bench and stay a while. Included is a primer on foursquare rotation for healthy soil, what to plant, and how to add personality to give your kitchen garden a unique style.
Pair this lecture with a hands-on garden design class.