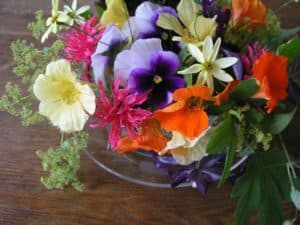 In my new presentation KITCHEN GARDEN FLOWERS, you will discover vegetables pretty enough to put in the flower border, and new ways to plant a painterly garden that combines art, food and flowers.
Flowers have long been partners with edible plants in the garden, often serving as a decorative garnish or fanciful bouquet. They attract pollinators, add color to the vegetable garden, and increase enjoyment for the gardener. Yet too often, gardeners tend to plant either a vegetable garden, or a flower garden, unlikely to combine the two.
KITCHEN GARDEN FLOWERS offers a captivating new look at garden designs that combine both food and flowers, with practical ideas to inspire creativity, encourage beneficial pollinators and increase yields. Best of all, combining the two reduces the time it takes to maintain a garden, allows gardeners with only a small yard to have the best of both, and increases pleasure, turning work into play.
KITCHEN GARDEN FLOWERS is a companion lecture to The Art of Growing Food presentation, based on my book, The Complete Kitchen Garden, featuring artistic designs and recipes for cooks who love to garden. In this new lecture, flowers are the main feature, with a focus on designs that integrate with ornamental edibles.
Contact Ellen Ogden to book a lecture for your garden club or garden symposium.