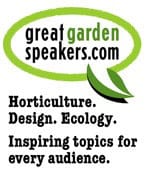 Garden Speaker ELLEN ECKER OGDEN is an award-winning food and garden writer, and a kitchen garden designer who is known for her informative and fun-loving garden talks. Her kitchen garden designs combine artistic elements with classic garden design techniques that elevate a backyard vegetable garden into a European-inspired kitchen garden.
Kitchen Garden Design Class
This is a half-day lecture, hands-on design class where you will learn technique and take home a landscape plan.
Download PDF of Ellen Ogden Kitchen Garden Designs  for a handout.
Imagine you are sitting on a bench in your garden, surrounded by a sea of greenery and all of it is edible: clusters of purple pole beans drape over the bamboo arbor at the entrance to the garden; mounds of deep maroon nasturtiums under the spiky gray green leaves of artichokes; citrusy foliage of Lemon Gem Marigolds and Alpine strawberries. The sweet flavor melts onto your tongue. Welcome to the kitchen garden of your dreams, a far cry from the Victory vegetable gardens of the past.
In this hands-on design workshop, you will learn how to take a fresh look at your vegetable garden with an eye towards aesthetics, comfort, and ease. The goal is to create a garden space that is designed right from the start – on paper, using the right set of tools, and drawing inspiration from a basic primer of good design. You will start to draw an edible garden design that has style and visual appeal, and look at new ways to fit growing areas into the natural landscape of the back yard. Bring graph paper and pencils, and photos of your garden.