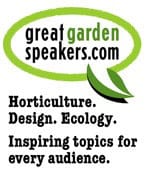 Garden Speaker, ELLEN ECKER OGDEN is an award-winning food and garden writer and kitchen garden designer who is known for her informative and fun loving garden talks. Her kitchen garden designs combine artistic elements with classic garden design techniques that elevate a backyard vegetable garden into a European inspired kitchen garden.
The New Heirloom Garden
In this lecture, be inspired to take a new look at what to plant and why, discover old varieties that you can bring back to your garden, to add color, aroma and exceptional taste.
Picture a kitchen garden that embraces flavor, fragrance and beauty. THE NEW HEIRLOOM GARDEN takes you on a path to the past, showing you exceptional heirloom varieties that were most likely in your grandmothers garden, yet have been almost forgotten.
You will discover ideas for how to combine flowers and food in the garden to attract pollinators, and what to plant for a harvest that is only available from your own garden. Learn why seed saving is key to the future of gardening, and how you can save your own seeds.
This lecture will feature photos and new designs my upcoming book, The Complete Heirloom Garden (Rodale 2019), yet also contain elements from my current book The Complete Kitchen Garden to show you how to set up a garden that can turn work into play – by starting with good design.