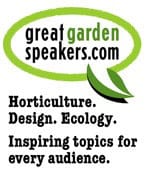 Garden Speaker ELLEN ECKER OGDEN is an award-winning food and garden writer, and a kitchen garden designer who is known for her informative and fun-loving garden talks. Her kitchen garden designs combine artistic elements with classic garden design techniques that elevate a backyard vegetable garden into a European-inspired kitchen garden.
 

Herbs, Greens, and Edible Flowers
55 minutes. Lecture with photo presentation. Books available.
Break out of dormancy, and discover the wide world of flavor-packed salad greens. Create a tapestry of color and texture in the kitchen garden or patio container with favorite European heirlooms such as mache, wild arugula, chicories, and endives, plus the best culinary herbs for gardeners who love to cook. Discover tips for keeping a succession going all summer long, and what edible flowers to plant to attract pollinators. I'll share ideas for what to grow, to inspire you to have a fresh supply of greens all year round that are also daptable to small pocket gardens or containers.
Why struggle growing the hard stuff, when herbs, greens, and edible flowers are the easiest to sow from seed and offer a continuous harvest of healthy produce all summer long? Naturally high in flavor, and ranked the best nutrition per square foot of space used in the garden, herbs, greens, and edible flowers should be in every cook's garden. Yet sadly, we limit these delicious and valuable crops to just a few varieties of lettuce and arugula.
This lecture is set up by the seasons; you will learn the best varieties to plant for spring, summer, and fall crops plus ideas for overwintering.