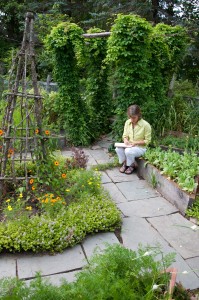 FOUR SQUARE DESIGNS. A well-designed kitchen garden goes beyond simply growing food: it is a way of life that can improve health and build natural connections with the landscape.
In this presentation,participants will learn how design their own kitchen garden, based on the four square gardens to build healthy soil through crop rotation, and is also a time proven method for classic design. With a four square rotation system, learning what to plant, and how to add artful touches to bring out your own style and personality, you'll come away with ideas to make your garden easier to maintain and more inviting.
The Four Square Design originated in ancient Persia as a Pleasure Gardens, dedicated to enjoy music, poetry and the arts. The geometric design continued as a design element through the Renaissance gardens and into the gardens at Colonial Williamsburg.
This organic method groups plant families into four elements: Legumes, Roots, Leafy Greens and Fruits, which are grown in separate beds and rotated each year. This method naturally builds, rejuvenates the soil and keeps insect pests to a minimum.
Four Square Designs can be combined with a full day workshop, for gardeners to learn more about how to use this method to organize their garden around crop rotation, and to look at new ways to design the vegetable garden with an eye towards optimum productivity while drawing from classic design to simplify maintenance. Gardeners will learn to adapt their current design to reflect a more practical and productive way to grow food, while maintaining an aesthetic style. Lecture is 60 minutes. Please contact me for more information.
Optional: Full Day Workshop. Pre-requisite: The Art of Growing Food Lecture. Contact me for fees and availability.