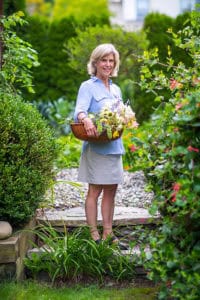 Garden Speaker ELLEN ECKER OGDEN is a Vermont-based food and garden writer, and a kitchen garden designer who is known for her informative and fun-loving garden talks. Her kitchen garden designs combine artistic elements with classic garden design techniques that elevate a backyard vegetable garden into a European-inspired kitchen garden, based on her books.
Read about her gardens in the March 2017 Better Home and Gardens Magazine article "Green Giant"
Printer-friendly Ellen Ogden Lectures 2017-18
Click here for a video clip
———-
Lectures are 55 minutes long, ideal for garden clubs, master gardener symposiums, and botanical gardens for the professional or home gardener. Contact Ellen for inquiries and fees.
THE ART OF GROWING FOOD (Click here for more details)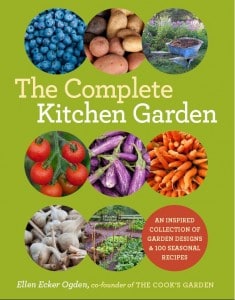 European Inspired Kitchen Garden Designs.
Learn the tools to create an edible garden that is both productive and beautiful, turning "ordinary" into "extraordinary." In my popular presentation "The Art of Growing Food," based on concepts from my book, The Complete Kitchen Garden, you'll learn how to grow an ornamental edible garden with an eye towards beauty, easy care, and pleasure.
A true kitchen garden opens your senses both in the garden and in the kitchen, and in this lively  presentation, you will learn my 6 steps to successful kitchen garden design, based on classic design techniques that anyone can follow. 55 minute lecture. PowerPoint color photos.
—–
New! THE NEW HEIRLOOM GARDEN  (Click here for more details)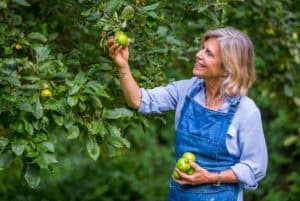 Modern Designs for Old Fashioned Gardeners.
Ever wonder what to grow for the best flavor? In this new lecture, "The New Heirloom Garden," takes you on a path to the past, to rediscover exceptional heirloom varieties that were most likely in your grandmother's garden.
Be inspired to take a new look at fruits, flowers, and vegetables to add color, aroma, and exceptional taste to your repertoire of plants. Learn what is the difference between an heirloom and open-pollinated plant, and why growing heirlooms is essential in the future of seeds. You'll get to know more about Aunt Molly's Cape Gooseberry, Mortgage Lifter Tomato, and Gilfeather Turnip. Recipes included, featuring gorgeous color photos of seed-saving favorites.
This lecture features photos and designs from my upcoming book, The Complete Heirloom Garden (Rodale 2019), with a step-by-step process.
—–
KITCHEN GARDEN DESIGNS: Hands-On Workshop (Click here for more details.)
Do it Yourself Lessons on Design.
Learn how to take a fresh look at your vegetable garden, with an eye towards aesthetics, comfort and ease, and create an ornamental garden designed to fit your landscape. Be inspired by photos and the lecture, then start your plan on paper, using the right set of tools, and drawing inspiration from a basic primer of good design. Discover the 6 steps to success, and draw an edible garden design that has style and visual appeal that you can take home and implement. Bring graph paper and pencils, and photos of your garden. (this is a 3 1/2 hour class, and the above lecture "The Art of Growing Food" is a prerequisite.)
—–
HERBS, GREENS, AND AROMATICS (Click here for more details)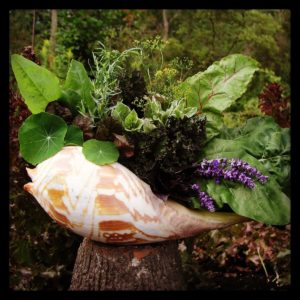 Healthy, Easy to Grow, Delicious.
Small spaces and containers are ideal for growing a range of herbs, greens and edible flowers. Discover the wonderful, zany world of flavor that salad greens offer, and build a tapestry of color and texture in your kitchen garden or patio. Get to know favorite European heirlooms such as mache, wild arugula, chicories, and endives, plus the best culinary herbs for gardeners who love to cook. Discover tips for designing the garden and keeping a succession going all summer long, what edible flowers to plant for attracting pollinators, and how to grow a stylish ornamental edible garden in every season, keeping a fresh supply of greens all year round.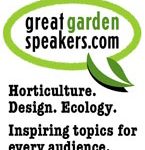 Check out my Great Garden Speakers reviews!
    –a few quotes from attendees
"Engaging, Inspiring, Delightful! After listening to Ellen's wonderful presentation on growing beautiful food, so many of us are inspired to create kitchen gardens of our own or add elements to our existing gardens. Really enjoyed this presentation and ready to get digging in the dirt!"   L. Strong, North Shore Garden Club
"Ellen is a marvelous speaker – warm, engaging, knowledgeable, and passionate. She brought us new and inspiring ideas for growing vegetables, and a great book as well. Ellen was a pleasure to work with and we would definitely recommend having her for your event!"   S. Bolle, Master Gardeners Symposium of Oakland County
"I had the pleasure of seeing Ellen at the Redwood Library in Newport, RI. Her presentation was full of inspiring themes for edible gardens delivered with wisdom, humor, and passion. I can't wait to play in my garden. I left brimming with fresh ideas."
P. Bailey, Newport Garden Club