Thanks to the Garden Conservancy Open Days program, I can visit gardens every weekend during the spring, summer and fall.  Some of my favorites within driving distance of my house are in the Litchfield, CT  and the Hudson Valley, NY areas, and I will be hosting a garden tour on July 9th in Manchester, VT . I look forward to seeing these outstanding gardens. Be sure to check out their calendar, and plan to visit a few of the gardens on the tours offered all over the country.
Choosing between  garden tours, or staying home to weed the garden is easy. I joyfully wake early, pack a picnic lunch into a backpack along with a camera and a raincoat, then head out for the day. My first garden tour was in 2009, when scouting for kitchen gardens to shoot photos for my book, The Complete Kitchen Garden. It was a total surprise to find so many gorgeous and elaborate flower borders, yet few of these grand estates offered a proper display of ornamental edibles. Only in the past few years, have more gardeners placed growing food in proper priority, and now there are magnificent examples of how to grow food in artful ways.
In order to see as many gardens as possible, I skip stopping for food in favor of packing my own picnic to eat under a shady tree. My two favorite summer picnic salads that are easy to make ahead are Corn, Cucumber and Cilantro Salad and Couscous, Lentil and Arugula Salad (pictured below). Both get better if made ahead and sit overnight to marinade in the dressing, and can be easily adapted with ingredients based on what's is in season from your garden or farmers market. Recipes can be found in my cookbook, The Complete Kitchen Garden.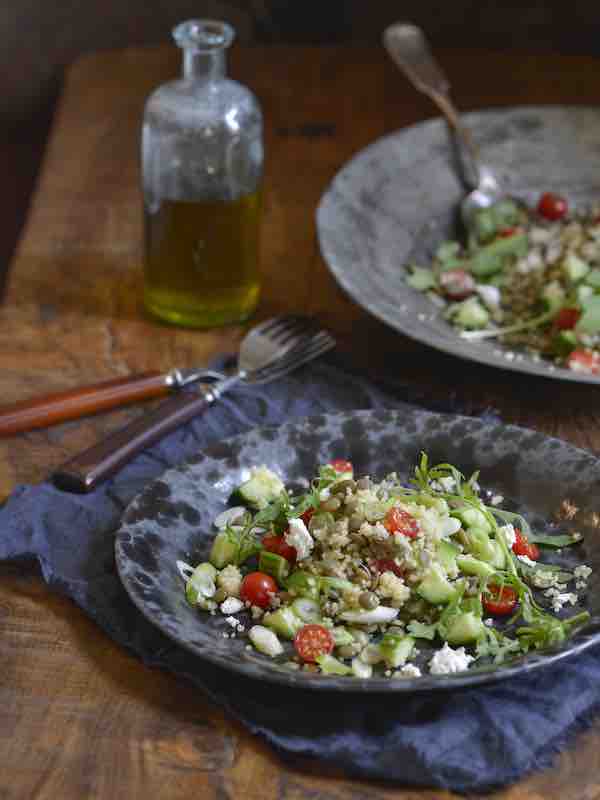 Arugula Salad with Lemon Vinaigrette
Makes 6 servings
For a refreshing splash of summer, use this lemony vinaigrette dressing on a variety of spring greens; it is especially good for bringing out the tart notes in arugula. This dish is easy to make ahead and ideal for potluck; add the arugula greens just before serving.
1 cup vegetable stock or water
1 cup whole-wheat couscous
1 cup dry green or black lentils
1/4 cup Lemon Vinaigrette, see below
4 cups fresh arugula, washed and dried
6 scallions or 1 small yellow onion, coarsely chopped
1 cup cherry tomatoes, halved
1 cucumber, peeled, seeded, and diced into 1/2 inch cubes
1/2 cup feta cheese, crumbled
In a medium saucepan, bring the stock or water to a boil. Add the couscous, cover, turn off the heat, and allow to sit until all the liquid has been absorbed, about 10 minutes.
In a separate saucepan, cover the lentils with enough water to cover them by 1 inch, and simmer over medium heat until tender, about 15 minutes. Be careful not overcook, or the lentils will fall apart in the salad. Drain any excess water and cool.
In a large salad bowl, combine the lentils and couscous and toss with half the lemon vinaigrette. Just before serving, coarsely chop the arugula and combine it with the lentils and couscous, along with the scallions, cherry tomatoes, and cucumbers. Crumble on the feta cheese, and add more dressing, to taste.
Lemon Vinaigrette
Makes 1/2 cup
1/2 cup extra virgin olive oil
1/4 cup fresh lemon juice (about 2 lemons)
1/4 cup red wine vinegar
1 tablespoon Dijon mustard
2 cloves garlic, mashed
Salt and freshly ground pepper, to taste
Combine all the ingredients in a Mason jar with a lid. Shake to blend until emulsified. Set aside until the salad is prepared.