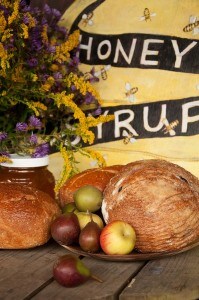 The art of FIREPLACE COOKERY may be lost with the current panoply of modern appliances, yet it if you can only imagine what it must have been like to feed a family with what seems like such primitive tools, it is lesson in culinary prowess. In your minds eye, strip the layers of sheet rock and paint off the walls of your house, remove the stove, the refrigerator and the sink and go back a few hundred years to picture how cooking has evolved over the past two hundred years.  It took time to put food on the table, lots of time and lots of firewood.
Culinary historians will recreate the process for cooks who want to learn open hearth cookery,  and one of these historians is Sally Brillon, who lives in Hebron, New York in a house built in 1786. She and her husband, both retired teachers, took eight years to restore their house, and each of the rooms in the rambling salt box has been lovingly renovated back to its original nature. But it is the stone hearth in the kitchen that draws the most attention.
From October through April, Brillon teaches a class on authentic open hearth cookery, and a complete five course menu including bread, vegetables, meat and dessert is cooked and served. Limited to eight students, the whole process of cooking a meal from start to finish takes six hours. It's a hands on course, and everyone gets to feed the fire in the hearth and the baking oven, prepare a simmering kettle of Hubbard squash above the fire, and baste and turn the roast in a reflector oven.
Fireplace cookery takes time, and it helps to have a big family who can all pitch in. For starters, there is firewood to split and stack. Feeding the fire is an all day job, just to keep up a good bed of coals. Putting food on the table was the primary focus of each day and coming together as a family in front of the big fireplace to cook, to eat and simply recount the days activities created a bond.
Authentic tools of the trade often decorate old houses, and learning how they work can take away some of the mystery of hearthside cookery. Old fireplaces have a crane that swivels in and out of the fireplace with hooks to hold kettles, for boiling water or simmer a stew. Some old hearths have a bread oven next to the open hearth,  preheated by firing up smaller pieces of wood and feeding for several hours until the inside bricks turn from red to a carbon black, indicating that the oven is hot enough to hold the heat at a steady temperature.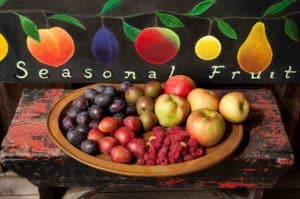 Cookery tools were considered a valuable commodity to a farm family's assets, and listed in the old inventories on par with their livestock and household furniture. One of Brillons most priced possessions is a reflector oven- made of pierced tin. It is not an old piece, she explains, but rather a reproduction that she uses for her class. But not every household had one of these ovens, back in the 1700's because it cost $3.00, which was more than most families could afford. Instead, they would cook meat over an open spit, in a spider pan (a frying pan with legs) or boil in a kettle.
As long as a fire is burning, and there are plenty of hot coals, the cook is not limited to the number of burners on the stove. Any number of dishes can be prepared simultaneously, and instead of turning knob to adjust the temperature, the cooks just changes the location of the kettle in the fire. The day I visited Sally's kitchen we cooked a fine meal, but the best part was the apple pie for dessert.
Sally Brillon's Recipe for Fireplace Cookery Apple Pie
The secret is in the apples, a combination of Northern Spy and Macs, which are both crisp and soft. The pie is formed in a tin dish, which then fits inside a Dutch Oven cast iron pan.  Hot coals are shoveled on top and bottom and create enough heat to cook the pie. Check it several times while cooking to make sure it isn't too hot. Don't have a fireplace? This pie will be equally delicious, even if it is baked in a traditional oven.
The Crust
2 ¼ cups flour
¼ tsp salt
¾ cup shortening
6-7 tablespoon cold water
Filling
6-7 apples, combination of Northern Spy and Macs
½ cup sugar
½ tsp cinnamon
¼ tsp nutmeg, grated
2 Tablsp Flour
1/8 tsp salt
1 tablespoon fresh lemon juice
2 Tablsp butter
Mix together the crust ingredients, and roll out 1/ 2 the dough to form the base of the pie. Set inside a tin or metal pie dish. Prepare the filling by peeling and slicing the apples. Combine with the rest of the ingredients in a bowl, and mix thoroughly. Place filling in the pie crust, mound the apples high in the pan. Cover with other half of the pie crust. Seal the edges.
Scoop out red embers and make a bed of coals. Place the pie dish inside a Dutch Oven with a tight fitting lid. Cover the Dutch over with more red embers. Check the pie after 20 minutes, and replace with more red coals, if necessary. Cook for about 40 minutes.