EPIC TOMATOES – Book Review
How to select and grow the best varieties of all time.
Craig Le Houillier | Storey Books | 250 pages | Retail $19.95
Craig Le Houllier is a man obsessed when it comes to tomatoes. Author of the new book, Epic Tomatoes, it all started when he joined the Seed Savers Exchange (SSE) in 1986, switching from nursery purchased transplants to raising his own plants. This book is a tribute, in many ways, to those who have been saving seeds, and sharing family heirlooms over the past century giving tomatoes a place they deserve in the top ranks of America's vegetable gardens.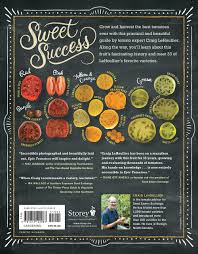 Yet it has not always been this way. Had you been a gardener or a foodie in the early 18th and 19th century when the tomato was first introduced as an edible fruit, you might have shunned tomatoes as poisonous. The plants were exotic and rangy, and not everyone appreciated the herbaceous scent and the bulbous ornamental fruit. "The first time I saw a tomato, they appeared so disgusting that I thought I must be very hungry before I am induced to taste them" wrote a New England gardener in 1820.
A former chemist, Le Houllier immersed himself to become an expert, planting over 2,000 tomato plants in the past three decades. His garden became a laboratory for experiments and tests, a self-described " museum of living history" filling hundreds of pots on his driveway and deck. His scientific approach to carefully recording shape, color, flavor and leaf variations resulted in a book that covers everything from the history and growing specifics, to the top ten favorites and the relationship between tomatoes, color and flavor.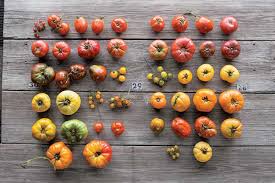 Detailed chapters on soil and getting the right PH, caging techniques and spacing, mulching, and even growing in straw bales are documented with excellent full color photographs. Favorite sections on how to prune, clip suckers (or not) best methods for support, and seed saving tips flow together beautifully.
It is logical that this book would be ideal for anyone who already loves tomatoes, yet in fact, it is more highly recommended for those who have narrowed down their tomato growing to just a few favorites.  Between the engaging design, the bold snappy cover art and clever interior layout, it is easy to see how anyone could be smitten by this remarkable and quirky fruit. 
________________________________________________________________
Excerpted from The American Gardener. Written by Ellen Ecker Ogden. Ellen Ecker Ogden is the author of The Complete Kitchen Garden ( Stewart, Tabori and Chang 2011) featuring theme designs and recipes for cooks who garden. www.ellenogden.com