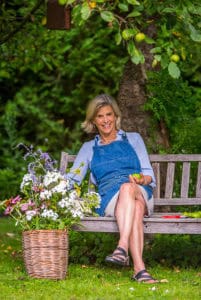 From Art to The Kitchen Garden 
Fresh out of art school, just starting a small clothing design business, I planted my first garden, marking the perimeters with four sticks and a ball of twine. I thought this might be a good way to feed myself.
If I said the garden thrived, I would be stretching the truth. There was a constant battle with the weeds, and the garden hose didn't quite reach, so the plants were frequently thirsty. Yet the thrill of dashing to the garden just before dinner to clip a few leaves of frilly Lolla Rossa and crimson Bull's Blood beet greens for my salad kept me at it.
Instead of planting in the long, straight rows of a typical garden, seeds were sown in artful patterns: fancy arcs and geometric triangles. Bamboo was used to give height for pea fences and pole beans, which added a dramatic touch and soon the garden became a work of art, as well as a place to grow beautiful food.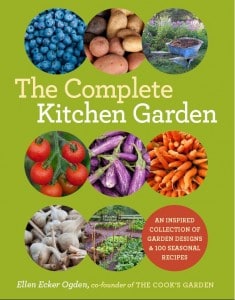 This led to writing books about kitchen garden designs, including my most recent, The Complete Kitchen Garden, which features designs and recipes for cooks who love to garden – just like me! I lecture on kitchen garden designs, and this year I am writing a new book tentatively called The Complete Heirloom Garden, to share my love of good food and classic garden design as well as my growing respect for heirloom plants.
It's What I Do
In 1984, I co-founded The Cook's Garden seed catalog, featuring the best-tasting European and American heirloom varieties that we offered home gardeners. It was a family business, with our two children, and we built a way of life around our love of good food that was grown on our small farm in Vermont.
My kitchen garden designs and articles have been featured in national magazines, including Garden Design, Martha Stewart Living, Country Gardens, Better Homes and Gardens, Horticulture, Organic Living, Eating Well, The New York Times, and The Boston Globe. I have been a guest on PBS' Victory Garden and on HGTV as the "Baroness of Basil."  
I believe that when we bring our families around the table to share our love of home-grown food, we are cultivating a healthy choice that spreads beyond our backyards. It gives me immense satisfaction to know that I am part of the natural cycle of the seasons that make up a year in the garden, and to be able to share this with others.
Follow this link to read more about my kitchen garden:
March 2017. Better, Homes and Garden Magazine Article: Green Giant