Cucumber, Corn, and Cilantro combine beautifully in this sweet, chunky summer salad. Infused with a hint of maple syrup, this is best served in July, when sweet corn rules the roadside stands. If the grill is hot, cook the corn on the cob over the hot coals rather than steaming it, to give it more flavor. The maple-balsamic vinaigrette will quickly become a staple, delicious on a variety of year-round salad greens. Recipe from my cookbook: The Complete Kitchen Garden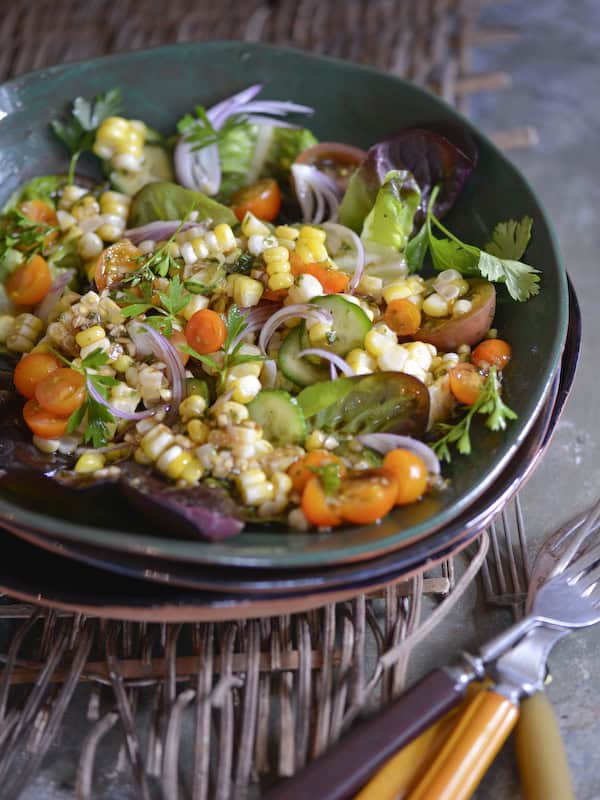 Cucumber, Corn, and Cilantro Summer Salad
Serves 4 to 6
3 large ears fresh corn, husked
1 pint cherry tomatoes, halved
1 medium cucumber, cut into 1/2-inch cubes (about 1 1/2 cups)
1 small red onion, thinly sliced into half-moons (about 1/2 cup)
1/2 cup finely chopped fresh flat-leaf parsley
1/2 cup finely chopped fresh cilantro
Juice of 1 lemon (about )
1/4 cup Maple-Balsamic Vinaigrette, plus more as desired (recipe follows)
Freshly ground black pepper
Fill a large stockpot with 1 inch of water and add 1 teaspoon of salt. Place the corn in the pot in neat layers. Cover the pot and bring to a boil over high heat. Cook until the corn is tender, about 5 minutes. Drain in a colander and let cool enough to touch. Cut each ear in half and stand on one end to cut off the kernels. You should have about 3 cups kernels.
In a medium salad bowl, combine the corn kernels, tomatoes, cucumber, onion, parsley, and cilantro. Add the lemon juice and toss. Add the Maple Vinaigrette and toss to coat, then add more, if you like. Season with salt and pepper. Cover and refrigerate until chilled, at least 2 hours or up to overnight. Serve chilled. Reserve the balance of the dressing for another salad.
Maple-Balsamic Vinaigrette

Makes 1/2 cup
1 teaspoon Dijon mustard
1 large clove garlic
2 tablespoons pure maple syrup
1 tablespoon fresh lemon juice
3 tablespoons balsamic vinegar
1 tablespoon finely chopped fresh basil
1/2 cup extra-virgin olive oil
1/4 teaspoon salt
1/8 teaspoon freshly ground black pepper
In a small bowl, combine the mustard, garlic, maple syrups, lemon juice, vinegar, and basil. Slowly stream in the olive oil while whisking to emulsify. Season with the salt and pepper.