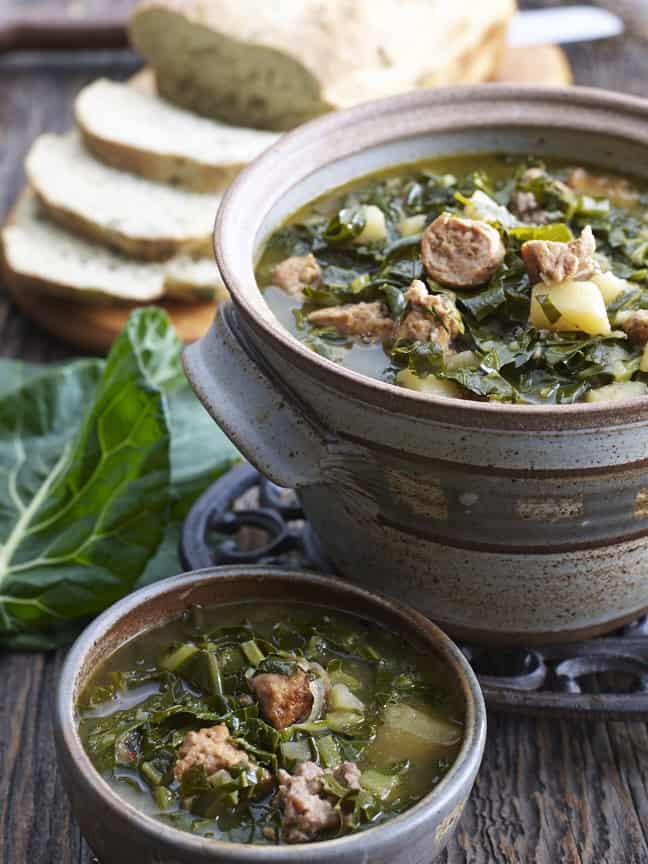 Collard and Sausage Soup
Serves 6-8
Collard greens are interchangeable with kale and an overlooked leaf vegetable that deserves more attention. Collards grow in most Vermont gardens long into fall, the same way that kale does, and the flat open leaves shape are easy to prepare: stack them, and roll up in a tune, then slice into thin strips, otherwise known as chiffonade.
Serve this with fragrant herbed cheese bread and a pat of Vermont made butter for real down home flavor.
¼ cup olive oil
3 hot Italian sausages – cut into ½ inch pieces
3 sweet Italian sausages – cut into ½ inch pieces
1 onion, finely chopped ( about 1 cup)
4 garlic cloves, peeled and minced
Salt and fresh ground pepper
¼ teaspoon red pepper flakes
2 pounds (about 6-8) Yukon Gold potatoes, peeled, cut into ¾ inch pieces
4 cups chicken broth
4 cups water
1-pound collard greens, stacked and sliced into fine strips, yielding about 6 cups.
1-cup corn kernels (preferably cut fresh from the cobb)
1. Heat 1-tablespoon oil in a 8 quart stock pot over medium high heat until shimmering. Add sausage and cook, stirring occasionally, until lightly browned, 4 to 5 minutes. Transfer to a bowl and set aside.
2. Reduce heat to medium and add onion, garlic, and the pepper flakes. Season with generous sprinkling of salt and pepper, to taste. Cook stirring frequently, until onion is translucent, 3 – 5 minutes. Add potatoes, broth and water, and increase to medium and bring to a boil. Reduce heat, and simmer, uncovered for 10 minutes, until potatoes are just tender.
3. With a measuring cup or soup ladle, transfer 1-cup solids and 1 cup broth to a blender. Add remaining 3 tablespoons oil to the soup in the blender and process until very smooth and well blended, about 1 minute. Set aside.
4. Add collard greens to soup pot and simmer for 5 minutes. Add the sweet sausage and the corn, continue to simmer until greens are tender, 8- 10 minutes longer.
5. Stir the pureed soup mixture back into the pot, bring back to a simmer and serve hot.