Serves 8
Original clam chowder recipes were mostly water-based fish soups, sometimes flavored with wine, and featured vegetables like onions, potatoes, and carrots. The fish varied, and many included some sort of bread product such as cracker or croutons to add bulk. While I would never recommend frozen clams over fresh, in this soup they work well and are much easier to find during the winter months, and the clam juice gives it a little extra flavor. I love to serve this hearty soup in the winter, and suggest you give it a try. Printable Recipe for Clam Chowder
6 pounds cherrystone clams, rinsed and scrubbed with water (or 16-ounce container of defrosted frozen or fresh shucked clams, coarsely chopped)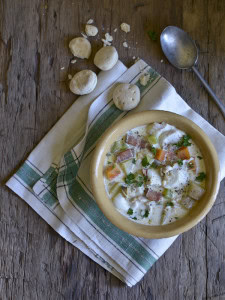 1 pound cod
2 bottles clam juice
2 tablespoons unsalted butter
4 slices of bacon (4 ounces), cut into ½-inch pieces
1 large onion, coarsely chopped
2 garlic cloves, coarsely chopped
4 celery stalks, coarsely chopped
6 carrots, cleaned and cut into small coins
2 pounds Yukon Gold potatoes, cut into ½-inch pieces
1 tablespoon fresh thyme
1 bay leaf
1 cup heavy cream
Sea salt and freshly ground pepper
Preheat oven to 350°F.
Place fresh clams and cod in a single layer on a rimmed baking tray, and bake in a hot oven 12 to 15 minutes, until clams open. Remove from the oven, and transfer into a large bowl along with any broth that collected during the cooking process. Let clams cool slightly, then pull meat from shells, and chop clams into bite-size pieces. Keep them chilled, along with the cooked cod while you prepare the broth. (If you are using pre-shucked clams, bake cod alone in lightly oiled baking pan for 10 to 12 minutes.)
Strain broth from the cooking through a fine-mesh sieve set over a large bowl. Add clam juice, adding enough water to measure 6 cups. Melt butter in a large 8-quart heavy stockpot over medium heat. Add bacon and cook, stirring occasionally, until fat is rendered and bacon begins to brown, about 8 minutes. Add onion and garlic and continue to stir until onion is translucent, stirring occasionally, about 10 minutes. Add carrots and celery, and cook 5 minutes. Add the clam broth, potatoes, thyme, and bay leaf. Return to medium heat and simmer, cooking until potatoes are tender, about 20 to 25 minutes. Stir in the heavy cream and gently reheat.
Discard bay leaf, and stir in cooked clams and cod. Taste and season with salt and freshly ground pepper to taste. Let it sit for 10 minutes for flavors to meld. When ready to serve, divide chowder among bowls and garnish with chopped parsley.