" THE DAY IS COMING WHEN A SINGLE CARROT, FRESHLY OBSERVED WILL SET OFF A REVOLUTION." — Paul Cezanne
Brightly colored carrots and oranges simmered into a marmalade, this recipe is one that I made regularly for our farm stand back in 1985.Remember to keep the rind on the fruit to add natural pectin, otherwise it won't thicken up. The recipe appeared in my first cookbook, From the Cooks Garden, and a variation in The Vermont Country Store Cookbook.
CARROT ORANGE MARMALADE hits all the notes with a tart combination of citrus and carrots. But what's really special about this combination is that it can be made year round. You don't have to wait until summer berry season to make unctuous jam, since carrots and oranges are always available in the supermarket.
Half-pint jars make wonderful hostess or holiday gifts, and the natural pectin in the orange rinds means that the ingredients are simple and require no extra pectin. Serve it with buttered toast, or whip up a batch of hot cheddar popovers.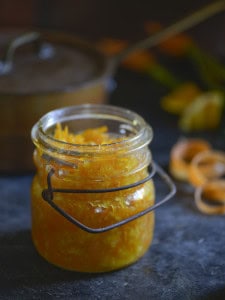 Makes 6 half-pints

2 lemons
2 oranges
2 pounds carrots, peeled and shredded (4 cups)
4 cups water
2½ cups sugar
Slice the lemons and oranges in half and remove seeds, but keep the rind intact. Chop halves into smaller pieces, and process in a food processor fitted with the steel blade until only fine bits remain.
In a large, thick bottom saucepan over medium heat, combine the lemons, orange, shredded carrots, water, and sugar. Simmer for 30 minutes, stirring occasionally, until thick and syrupy. Pour into 6 half-pint clean and sterilized mason jars, screw on tops, and invert to seal the top. (I have found that jam does not need to be hot – water bathed, yet just to be on the safe side since this is for gifts, you may want to immerse the sealed jars in boiling water for 10 minutes.)
Printable PDF copy: Recipe. Carrot Orange Marmalade